I have been very impressed with the company's innovative Vertical Digging System, which I first saw in the flesh at last year's Bauma exhibition.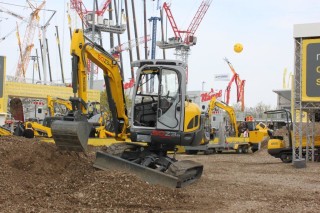 This promotional video shows some of the benefits of this exciting addition to the mini excavators portfolio.

Available on machines ranging from 1.7 to 5 ton this system is said to offer the end user greater productivity, improved efficiency and improves precise digging on uneven terrain.
There are many occasions on jobs when this system could be put to good use, apart from the obvious working on hillsides and motorway embankments; but also in the pursuit of grading stone where there is a need to put in a camber. There are some who will say just adjust the machine and use the blade to gain the correct angle, but this can often cause a lot of damage to the surrounding ground from "spragging" with the tracks.
I personally think this is another great idea, which will help modern thinking operators in the pursuit of their duties. My only concern is how this set up will stand the test of time, in terms of pin wear which might cause unwanted movement?