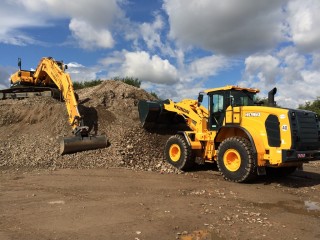 Hopkinson Waste Management, based in Staveley, Derbyshire was established in 1984 by David Hopkinson. The company is still a family run business more than 30-years later with the founder at the helm.
The group has a skip hire business and a 30-acre waste processing site at Slittingmill near Chesterfield. Skips of all sizes are delivered to and processed at this site together with wastes brought in by third party commercial operators and local authorities.
For its mobile plant, Hopkinson is a loyal Hyundai customer. All the excavators and wheeled loaders used on site are Hyundai machines.
Hopkinson Waste has recently added two more machines to its fleet – a 22 tonne R220LC-9A crawler excavator and the latest wheeled loader from Hyundai – the HL960. With the two new additions the company now has a fleet of 10 Hyundai machines, which represents an investment of almost £1m.
"We purchased our first Hyundai in 2004 which was a HL760-7 wheeled loader," says David Hopkinson. "Local dealer EP Industries, based in Alfreton, supplied us with the machine and we have continued to work with them ever since. We really liked the Hyundai product so we continued to invest. They are reliable and are good value for money. I also like the Hyundai's quality third-party suppliers such as Cummins Engines and ZF Transmissions. Parts are also easy to get hold of and we get a second to none back up service from EP Industries."
David added, "Our second machine purchase from EP was a 21-tonne 7-series excavator, followed by a 14-tonne 7-series and four 760 wheeled loaders. The 21-tonne R210LC-9A was the first 9-series we bought and we noticed many improvements on the previous models."

"With business being busier than ever we decided to buy our biggest excavator yet and invested in the R220LC-9A. This was coupled with our very latest purchase of the HL960."
He didn't even bother testing it before buying: "We were in the market for a new loading shovel. We spoke with Adrian from EP and we read up on the spec of the machine and bought it," David Hopkinson says.
"This was a big purchase made on confidence in the product and the dealership. So far we have been delighted with the machine and the operators say that it's more powerful than previous models. They also like the ease of operation and the ease of maintenance with the new electronic hood. Another big plus with all the Hyundai machines is the extended warranty of two years/,4000 hours, which shows the manufacturers confidence in the product."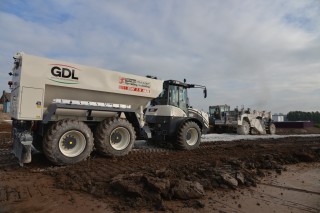 The new 18-tonne HL960 wheel loader is powered by a Stage IV 168kW Cummins QSB6.7 engine. It has a standard 3.3m3 bucket that has been redesigned with an additional spill guard and changeable heel plates. The restyled cab is three to four decibels quieter than the previous version, Hyundai says.