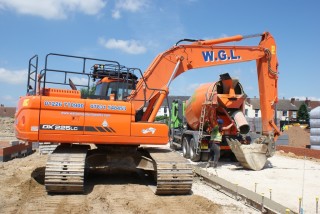 Company owner Carl Watson names all his machines after friend, family or staff, and this new machine is named in honour of Malcolm Reynolds, who at 71 years young is the most experienced plant operator in the Watsons team. Malcolm is currently driving his namesake machine on site.
WGL has also bought a Doosan DX62R-3 and a DX85R-3 to meet rising demand. The new 8-tonne DX85R-3 (called Ollie, after a mate of Carl's) is one of the first to be delivered in the UK and follows on from the purchase of five of the 6-tonne DX62R-3 excavators by Watsons at the end of last year.
The new machines have all been supplied by Filtermech Plant Sales, the authorised Doosan dealer for Yorkshire.
"We've been buying Doosan excavators and before that the Daewoo range exclusively for over 14 years now," Carls Watson says. "Our first purchase was a Daewoo Solar 175 model in 2000, shortly after I took over the business from my father. I later bought a Daewoo 14-tonner that was the only one on the market at the time to have a six-cylinder engine which meant that the engine was never overstretched and it allowed you to take on virtually any task with the machine.
"Though the original Daewoo machines were good, the new Doosan DX62R-3, DX85R-3 and DX225LC-3 excavators represent a 100% step forward in design and today Doosan excavators have a residual value that rivals any of the other Tier 1 suppliers. Apart from high performance and excellent fuel efficiency, the new Doosan excavators are very stable particularly when carrying out cross-carriage work and are really easy to service and maintain."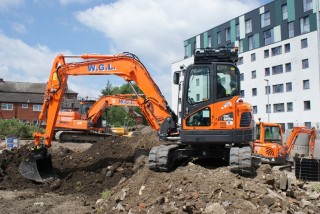 All the new excavators are now working on Keepmoat social housing projects in Leeds and Doncaster. The new DX85R-3 model has joined Doosan DX62R-3 and DX140LC excavators working on closely grouped projects in the central Holbeck district of Leeds. Watsons is currently busy on sites on Malvern Road, St Luke's Road and Coupland Street, carrying out drainage and civil works with the Doosan excavators.
The aforementioned Sir Malcolm was recently working alongside DX62R-3 and DX80R models on another Keepmoat job at Mexborough, near Doncaster, building homes for the Guinness Northern Counties housing association.
Over the past 15 or 20 years, WGL has grown from a £200,000 turnover equipment hire and labour organisation into a £3.6m supply and fit business with a directly employed staff of 40 and a fleet of 17 Doosans. "The excellent service and advice from Filtermech over the last 14 years has helped to support our growth," Carl Watson says. "With all of the 50-60 Doosan and Daewoo machines we have purchased from them over this time, Filtermech have always been very reliable, providing unmatched back-up and parts support for the Doosan range."
Despite the growth, Watsons Groundworks remains firmly a family business; Carl's wife Wendy and sister Joanne both work in the office in Barnsley.

[Footnote: After writing this, I agonised over whether it should be 'a friend of Carl' or 'a friend of Carl's'. The double genitive is a controversial business. I decided if anyone complained, I'd refer them to Anne Brontë and Henry Fielding, for both of whom it was considered perfectly acceptable, according to my research.]