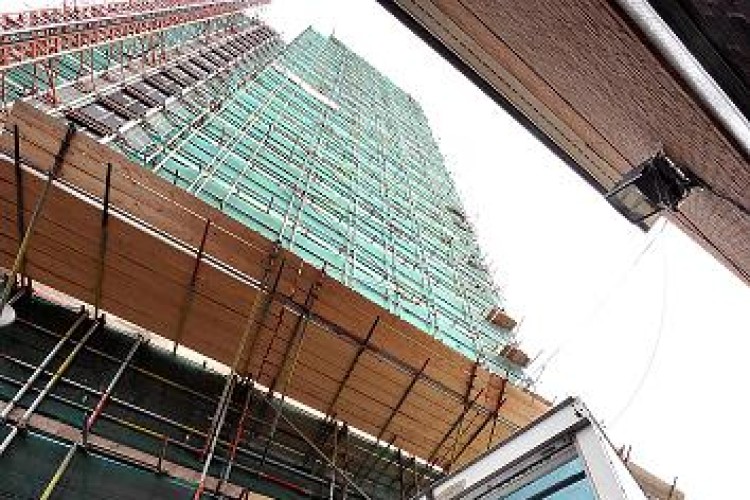 The practice of filling cavities with granulate stone wool insulation is now a common sight across Britain, with homeowners utilising measures to increase the energy efficiency of their homes with minimum cost and disturbance. The stone wool is pumped from machines set in the back of a van adjacent to the building through a hose. However, the Edward Woods Estate project, filling 1380 cavities with insulation weighing the equivalent of 36 mini coopers, is truly exceptional in scale.
Andrew Champ, Business Development Director at Rockwool said "This clearly is a massive undertaking, and has involved meticulous planning from the start. Working closely with our approved installer UK Homes Insulation we have engineered a quick and effective way of providing cavity wall insulation to residents of the Edward Woods Estate with the minimum amount of disturbance".
The Edward Wood Estate is a 1960's social housing development that is to be refurbished rather than demolished and replaced. The £12.2 million regeneration project is intended to extend the life of the towers for another 40 years through a thorough thermal and visual upgrade. Residents have been involved in the scheme from the start, with representatives from each block working with the design consultants, using their local knowledge to help steer the proposals for the benefit of all who live there.
As well as Rockwool EnergySaver, other Rockwool products to be used in the project include external wall insulation, roofing boards, partition walls, Rockfon ceiling tiles and Rockpanel – an external wall cladding chosen by the residents that increases the aesthetic as well as thermal value of the buildings. 
Gary Cox, Managing Director of UK Homes Insulation, the installer of the insulation added "Cavity wall insulation is a popular cost effective solution for one or two storey single dwelling houses, mostly in the private domestic sector. However, this project is about multi-storey social housing buildings. We had to adapt the installing technique and the machine setting for the task, but it is expected at a project of this scale. The installation itself is a speedy process, which does not require manual handling and causes minimal disturbance to the residents".
The installation of cavity wall insulation in all three towers is expected to be completed by the end of September 2010.
Got a story? Email news@theconstructionindex.co.uk