The London lifting company has bought the LTM 1350-6.1 complete with luffing jib attachment.
The LTM 1350-6.1 has a 70-metre telescopic boom, 78-metre luffing jib and 42-metre fixed jib. Its Y-guy boom support system significantly increases its load capacities in long boom configurations, especially at short radii when the boom is near to vertical.
Maximum hoist height is 134 metres and maximum lifting radius is 96 metres. With the boom fully extended to 70 metres, maximum safe working load capacity is 34.7 tonnes
City Lifting also has a 40-tonne LTM 1040-2.1 on order from Liebherr.
Managing director Trevor Jepson said: "We have great confidence in Liebherr as, unlike some of the other manufacturers, their philosophy is to nurture long lasting relationships with their customers. Any problems that we have had, and they have been minimal, have been dealt with effectively and quickly. We are confident that as we go on to invest in future new Liebherr models that the cranes we are buying today will achieve the best resale values."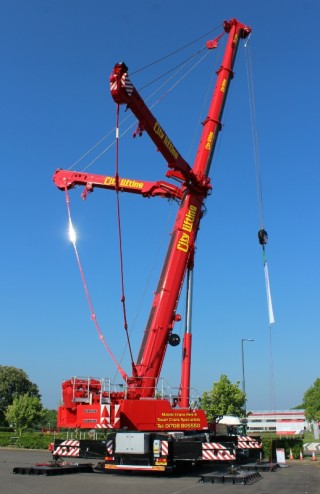 Got a story? Email news@theconstructionindex.co.uk