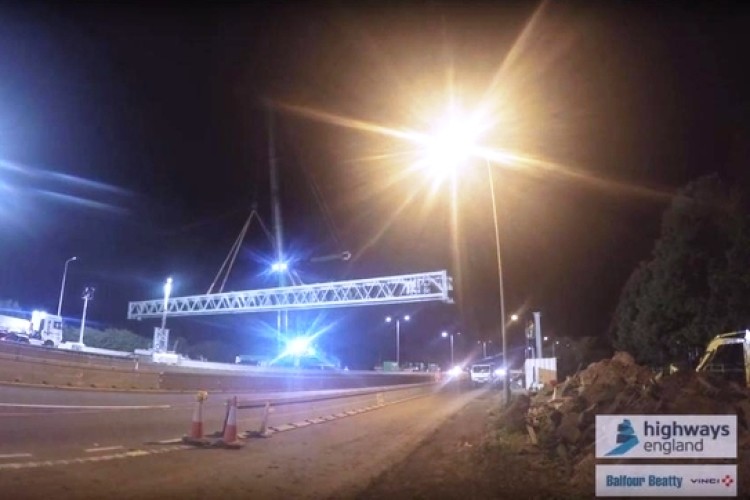 Balfour Beatty Vinci joint venture is converting a 10-mile stretch of the M5 between junctions 4a and 6 to smart motorway for Highways England. Its £45.4m contract invovles installing electronic overhead signs and cameras, and turning the hard shoulder into a running lane.
The joint venture has used 4D modelling for all critical activity that had the potential to impact project timescales. It helped in planning the works sequence before starting on site. The contractors credit the software with enabling them to reduce the length of an overnight closure of the motorway from 12 hours to eight and a half hours.
4D modelling is becoming commonplace on infrastructure projects to help plan out complex sequences of works ahead of programme, but Balfour Beatty Vinci say that their use of the software broadened its scope to include day to day project management – taking the software beyond its standard operational practice.
Josh Hanson, digital project coordinator for Balfour Beatty said, "This is the first time Balfour Beatty Vinci joint venture has used this software as a management tool, taking the technology beyond site safety and operational planning uses in to all aspects of our work including site inductions. This collaborative approach has also extended to planning meetings with Highways England, resulting in a more seamless working relationship on a complex and busy project."
Balfour Beatty now plans to roll out this approach to other highways projects and other areas of the business.
Got a story? Email news@theconstructionindex.co.uk