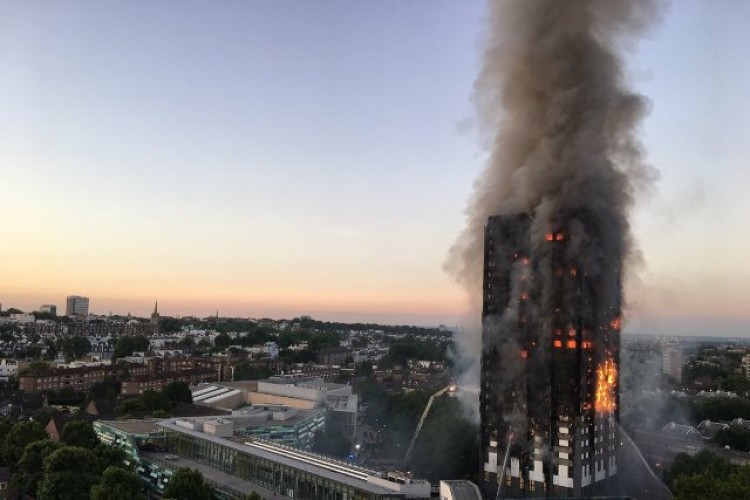 Tower block landlords have been told that from today (Tuesday 20th June), where ACM panels have been identified, they must take steps to establish that they are of limited combustibility, and to submit samples for testing.
A technical note has been produced to help councils identify cladding made of aluminium composite material (ACM), like the panels that went up in flames so easily at Grenfell Tower last week.
In an email to all local authority and housing association chief executives on 18th June 2017, the Department for Communities & Local Government permanent secretary Melanie Dawes said: "There has been much public concern and comment about potential flaws in the cladding that was on Grenfell Tower. While the exact reasons for the speed of the spread of fire have yet to be determined, we have concluded that there are additional tests that can be undertaken with regard to the cladding. We are therefore asking local authorities and other registered providers of social housing to identify whether any panels used in new build or refurbishment are a particular type of cladding made of aluminium composite material (ACM)."
She said: "It is important to stress that ACM cladding is not of itself dangerous, but it is important that the right type is used.
"If you identify that cladding on any of your buildings is made of ACM, then a sample will need to be tested. We have put in place a testing process for any samples, which will be at no cost to local authorities and housing associations."
In conclusion, she wrote: "As well as this work I would remind local authorities that they should be well advanced in checking they have robust fire assessments for their stock. I should point out that assessments carried out to comply with the Fire Safety Order are unlikely to have considered the building's cladding. The Local Government Association's Fire safety in purpose-built blocks of flats remains the most comprehensive guidance on ensuring fire safety in these types of buildings."
The death toll of the fire that raged through the 24-storey Grenfell Tower on the Lancaster West estate in north Kensington on Wednesday 14th June now stands officially at 79.
Commander Stuart Cundy yesterday provided an update regarding the criminal investigation by the Metropolitan Police Service into the Grenfell Tower fire:
"The scale of this investigation is truly significant and we are looking at all criminal offences that may have been committed and from day one have worked closely with London Fire Brigade, the Health and Safety Executive and a wide range of specialists," he said.
"The investigation will be exhaustive to identify how the fire started and how it spread. The investigation will look at how - but more importantly why this happened.
"It will be far reaching - in a number of areas including how the building was managed and maintained, fire safety measures and the refurbishment that was reported to have finished in 2014.
"Only when we have investigated fully and properly will I be able to say what happened and why - to speculate now would be simply wrong.
"But as a consequence of our investigation, if we identify anything that suggests there is a risk to public safety we will inform the relevant and appropriate agencies immediately.
"To help people understand the scale of the investigation, over the weekend on a daily basis I had around 250 investigators working on all aspects of this investigation."
Got a story? Email news@theconstructionindex.co.uk