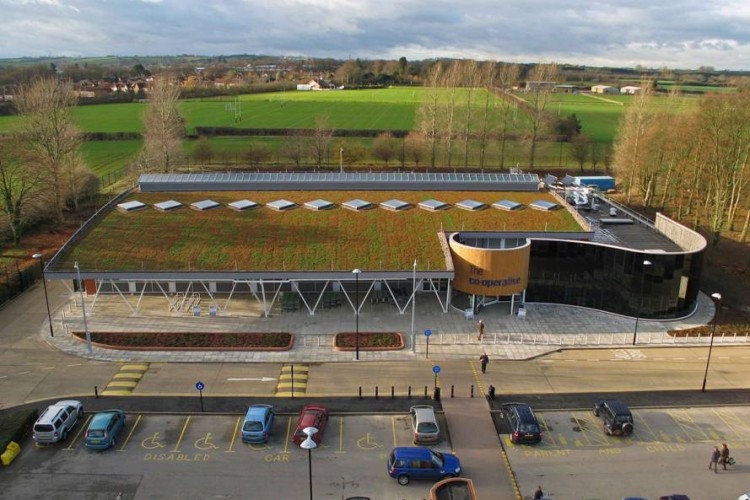 A ZinCo green roof from Alumasc has helped the new Oakham Co-Op become one of the most energy efficient retail stores in the country.
Designed by KPW architects for Midlands Co-Operative Society, the £4.5 million building replaced the original store which was destroyed by fire in July 2008. The new building incorporates a range of energy saving features including the ZinCo green roof which is planted with local species to create a wildlife habitat. Rainwater is also harvested from the roof and solar panels are used to heat the store's hot water supply. It is anticipated that the building will achieve a reduction in CO2 emissions from 103kg/m2/year to just 40kg/m2/year.
Alumasc's ZinCo extensive green roof features sedum-based plants that will require minimal irrigation and maintenance. Like all ZinCo green roofs, the roof offers notable ecological benefits, providing a natural habitat for plants and wildlife, while helping to reduce air and noise pollution, cutting carbon emissions and assisting with rainwater retention and attenuation. ZinCo green roofs vary from extensive and biodiverse types such as the one chosen for Oakham Co-Op, to intensive roofs, which are suited for areas of public and recreational use and require more tending.

The green roof was installed by Leicester-based Envelope Contractor Torclad Ltd, over Alumasc's Derbigum single layer waterproofing system,to achieve the wind load and U value requirements of the project. To meet the demands of the fast track construction programme, the system was mechanically fixed onto the structural deck, with the end and side laps welded by torch application. Hot air welding can also be used as an alternative, to suit the application. An additional 1000m2 of Derbigum was installed with tapered insulation to the lower flat roof area, housing the solar panels.
Derbigum was specified for its exceptional long-term performance and durability, warranted for 25 years.  The BBA Approved system is manufactured under the ISO 14001:2004 and EMAS Environmental Management Standards and is fire rated F.AA to BS476 Pt3 (EN1187 Pt4), the highest available rating, which allows unrestricted use under Building Regulations.
The main contractors at the Midland Co-Op in Oakham were The Tomlinson Group.
Got a story? Email news@theconstructionindex.co.uk