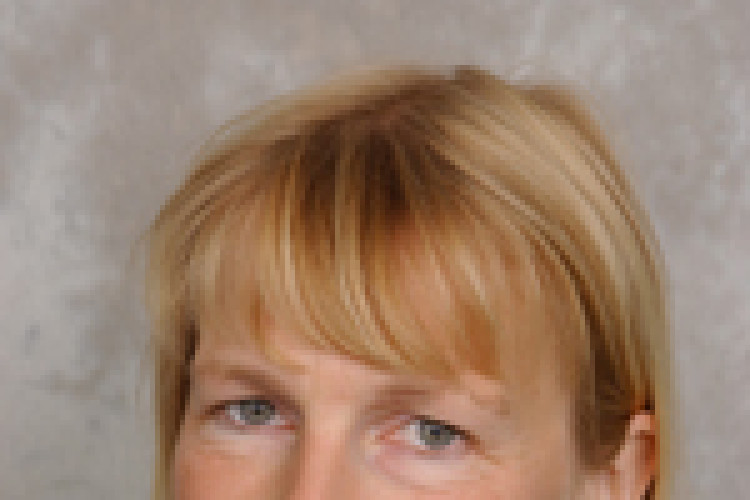 It's often referred to as a "blitz" – perhaps not the best choice of word to describe a health and safety initiative – but most people in the construction industry know what it means. It is the Health & Safety Executive's periodic crack-down on poor site conditions, known officially – though less impressively – as the Construction Initiative.
Last month, HSE inspectors and visiting officers swooped on sites around the country, focusing on  smaller sites and in particular those involved in building refurbishment and maintenance. The aim was to clamp down on high-risk activities such as working at height and work that could result in exposure to dust and other harmful substances, and check on the welfare facilities available.
The Construction Initiative is a regular annual event (traditionally conducted in the spring, it has now been shifted to the autumn period) designed as much to publicise the dangers of unsafe site conditions as to catch out those who flout the regulations.
Most large contractors have active health and safety departments and know the benefits – commercial as well as social – of maintaining high standards of site safety. It is the smaller firms working on small below-the-radar jobs that most often harbour the worst health and safety transgressions; and that's why the HSE's Construction Initiative has focused this year on small refurbishment jobs.
"Quite simply, this is the part of the industry with the worst record," declares HSE chief inspector for construction Heather Bryant. "Around 59% of all construction fatalities occur on refurbishment projects and 70% of them are on small sites." Refurbishment can spring surprises on site staff in a way that new-build seldom does: the demolition of a supporting wall; the accidental severing of a live cable or the rupture of a gas main that has gone undetected by site surveys – they are all distressingly commonplace. So too is the accidental exposure to hazardous substances, asbestos being a common (as well as potentially lethal) example. Although the industry's safety record is steadily improving (there were 39 fatal accidents last year compared to around 100 in 2000) Bryant is keen to remind us that this is not just a statistic – it is 39 people who went to work and never came home again.
One particular cause of serious injury which is stubbornly refusing to show any sign of improvement – and one that is particularly prevalent in the refurbishment sector – is falls through fragile roofs. This is a priority for the current construction initiative, says Bryant.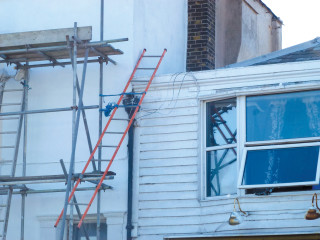 "About nine people die every year from falling through fragile roofs," she explains. These account for over 20% of all fatal falls from height. "Quite frankly we know the controls that need to be put in place –  it's not difficult and yet year on year we are killing people this way. That's why we're really focusing on the issue this year," adds Bryant.
Another priority area, and one that is often given scant attention, is occupational health. "Health seems to have become the poor relation to safety; it's often neglected on building sites," says Bryant. "We all know about asbestos but there are other risks to health, such as silica dust, diesel fumes and other respiratory hazards." One of the difficulties faced in tackling these issues is that the workers themselves are often ignorant of the risks and because the dangers are seldom immediate or dramatic they are often underplayed.
Bryant acknowledges that the dangers of asbestos are now very widely understood but she insists that  still not enough is done by contractors to guard against exposure. "Around 4,500 people a year are dying from the effects of asbestos. It's still a major issue," she says. Neither does she accept the argument that many of these deaths are the result of exposure many years, or even decades, ago:
"We still see too many cases of recent exposure and how it affects people. It's a modern issue as well as a historical one – it's still a real cause of death." Raising the occupational health agenda across the board – and not just within the scope of the construction refurbishment initiative – is a top priority for Bryant, who took on the role of chief inspector of construction in March this year. Quite apart from the impact poor health management has on individuals, Bryant is keen to remind industry of the commercial impact too: "Over 74,000 workers are affected every year and 1.7 million working days are lost every year to ill

health," she says.
Policing health and safety in an industry as large and as widespread as construction is a huge challenge and there is no way that the HSE could visit more than a tiny percentage of the small refurbishment projects it has decided to target this year. Hence safety campaigners have often complained that the Executive is under-resourced and that campaigns such as this year's Refurbishment Initiative are little more than flag-waving exercises that have little long-term effect.
This impression has been reinforced in recent months by changes in statutory requirements brought about by the government's drive to reduce the regulatory burden on businesses. The switch from three-day to seven-day accident reporting is a case in point, and so is the announcement made in September 2012 that health and safety inspections were to be confined to 'high-risk' sites only.
The decision to cut inspections on low- and medium-risk sites is estimated to have resulted in around 11,000 fewer inspections per year and while this has been welcomed by the Confederation of British Industry and employers in general, safety campaigners are less impressed. Bryant insists, however, that HSE's resources will be maintained and that construction remains a priority sector. "We will keep our resources at the same level – in fact we are just about to appoint 24 new inspectors, half of whom will be working in construction," she says. However, she acknowledges that HSE inspectors cannot visit every site – they never could. She says that the HSE is using its available resources in the most efficient way it can:
"We don't rely only on inspectors; we also have visiting officers, an advice line, our website and online resources and people working with stakeholders throughout the industry," she says. "We do try to use these resources in the best way possible and so we target high risk areas by identifying the type of site and the type of activity taking place. "But we don't spend all our time looking only at these sites. We also look at the bigger companies and the larger sites," says Bryant. Large construction sites generally come to the attention of the HSE since there is a requirement to register major projects with the Executive. No such requirement exists for small sites. Why is this, given that even small domestic refurbishment jobs must notify local Building Control, which will visit the site to check compliance with Building Regulations? What's different about health and safety?
"The fact is we do work with our colleagues in Building Control," replies Bryant, who says that health and safety problems can be picked up that way. "But when we do go on-site we only see a snapshot in time," she explains. In other words, while compliance with Building Regs is absolute and permanent, health and safety risk can arise unexpectedly and exist only temporarily.
The message Bryant wants to get out is that ensuring adequate levels of health and safety is not actually the HSE's responsibility. It is the responsibility of the duty-holders on-site "and when we find problems we will prosecute and publicise," she says. This message is driven home by the new "Fee for Intervention" (FFI), which is levied on companies that receive a visit from the HSE and are found to be in material breach of health and safety law. Launched in October 2012, this initiative not only helps recoup some of the cost of site visits but hits defaulters in the pocket – adding a real financial penalty to the improvement notice 'slap on the wrist'.
The financial element should not be misunderstood, warns Bryant; this isn't a cynical money-making scheme. "It doesn't change what we do but it does have an impact on people when they are found to be in material breach. If we visit a site and everything's OK, we ask the inspector to leave the site and move on…It's the "polluter pays" principle and it's the right thing to do," she adds. Neither is it new: other regulatory bodies use the same tool and so has the HSE itself in the past. The money raised by the FFI – nearly £2.7m in the first six months – is ploughed back into the HSE: "It helps pay to sort the risk out," says Bryant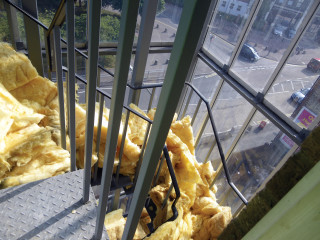 Got a story? Email news@theconstructionindex.co.uk