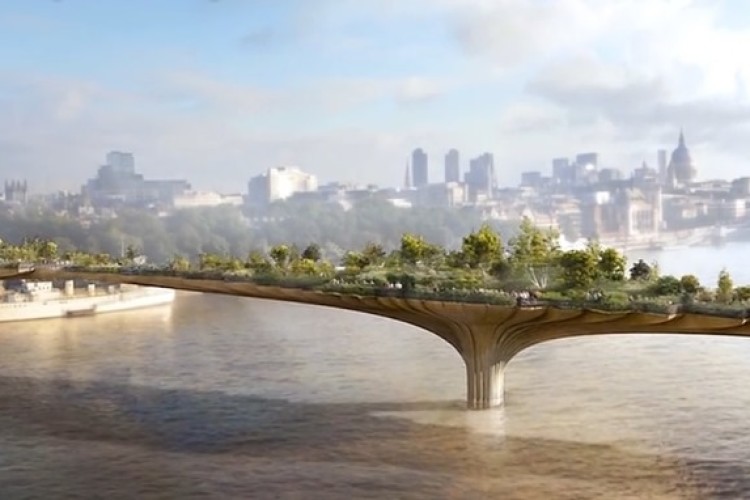 And despite there being no transport case for the bridge, the DfT stands to lose up to £22.5m if the project fails.
The National Audit Office has published its findings from its investigation1 into the Department for Transport's grant of £30m towards the construction of the Garden Bridge, the proposed pedestrian bridge spanning the River Thames in central London.
The NAO's review makes no judgement of the project's merit; it only assesses the funding provided by the DfT.
The decision to contribute to the project was made directly by then chancellor George Osborne without DfT involvement. He then nominated the department to administer the government's contribution, which had to make the best of it.
In its assessment of the business case, the DfT concluded that there was a significant risk that the bridge could represent poor value for money. It sought to protect taxpayers' money by imposing a cap on the amount of its funding that could be used for pre-construction activity. In a letter to the mayor of London in November 2014, the DfT stipulated that a maximum of £8.2m could be spent on pre-construction works.  It subsequently relaxed this requirement on three separate occasions despite considerable uncertainty as to whether the bridge would be built. In June 2015, the DfT agreed to increase the cap to £9.95m; by another £3.5m in February 2016 and then in May 2016 ministers agreed to underwrite cancellation liabilities of up to £15m for a limited period until September 2016, bringing the department's total exposure to pre-construction losses to £28.5m. The Garden Bridge Trust had not yet secured the land on the South Bank for the Bridge's south landing.

In August 2016 the DfT extended its guarantee period indefinitely but reduced the amount it was willing to underwrite to £9m. This reduced the department's total exposure from £28.5m to £22.5m, shifting more of the risk onto private donors.
There NAO concludes that there remains a significant risk that the project will not go ahead. The Trust has still not secured the land on the South Bank for the Bridge's south landing which has affected the timetable and the Trust is still £75m short of the private donations it requires. The main contractor has been put on standby and construction is now expected to begin in the spring of 2017, approximately 18 months later than planned.
Should it not go ahead, the DfT stands to lose a maximum of £22.5m of its £30m grant. This consists of £13.5m in costs so far to complete pre-construction activity, and a further £9m of cancellation liabilities.
The NAO concludes: "If the project continues, it is possible that the government will be approached for extra funding should the Trust face a funding shortfall. The project has faced cost increases and delays to the schedule. The pattern of behaviour outlined in this report is one in which the Trust has repeatedly approached the government to release more of its funding for pre-construction activities when it encounters challenges. The department, in turn, has agreed to the Trust's requests."
1. Investigation: The Department for Transport's funding of the Garden Bridge
Got a story? Email news@theconstructionindex.co.uk