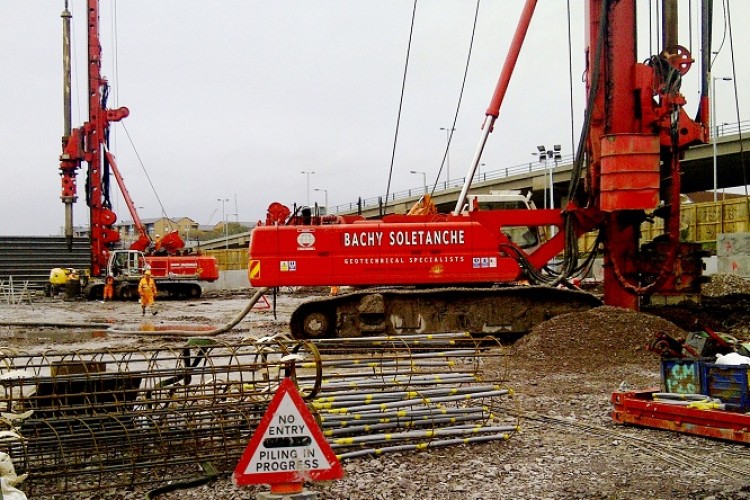 A former dock in the Govan shipyards in Glasgow was never going to be the easiest location to drive piles.
Bachy Soletanche is currently installing piling at the Scottish Exhibition and Conference Centre (SECC) in preparation for a new multi-storey car park.
The project is part of a wider revamp for the area, which includes a hotel and office accommodation, plus the 12,500-seat Scottish National Arena which will be used in Glasgow's 2014 Commonwealth Games.
The site was know to be problematic site due to its positioning over a former dock filled with unknown matter during the 1950s.
Main contractor SCC, which has the design and build contract for the scheme, employed ground engineering specialist Bachy Soletanche to install the piles in a seven-week, £750,000 contract.
With half of the car park site over the in-filled former dock, and with the made ground within the dock extending to 16m below ground level, Bachy Soletanche had to remove all obstructions in the scope of its contract.
"We knew that this project would throw up a few challenges," says Chris Wallbank, project manager for Bachy Soletanche.
"We used a CM120 piling rig, which initially probed the in-filled dock area to determine the extent of the unknown obstructions and verify if the ground conditions were suitable for CFA piling.

"Unfortunately, the top few metres were too unstable to install CFA piles without using temporary casing within the top 10m. So instead, a BG28/36 rig was mobilised to install Bauer casing prior to the CM120 installing the piles through it."
The CFA piles within the dock were installed with 880mm o/d Bauer casing along with a 750mm CFA auger, reaching to a maximum depth of 23m, and a rock socket in the sandstone.
The piles outside of the dock are CFA piles of 600mm and 750mm.
The next stage of the project, scheduled to begin after the Christmas period, includes the piling for a new link bridge to connect the arena and multi-storey car park.
The piling for the link bridge sees Bachy Soletanche installing 21 750mm CFA piles into the sandstone.
"The piling rigs and plant will need to be relocated from the car park site to the adjacent Lend Lease Arena site in order to install the link bridge piles," explains Wallbank. "Lend Lease is the main contractor for the building of the new National Scottish Arena."
Despite some difficult weather conditions, Wallbank says Bachy Soletanche is on schedule to complete the project to programme.
Got a story? Email news@theconstructionindex.co.uk