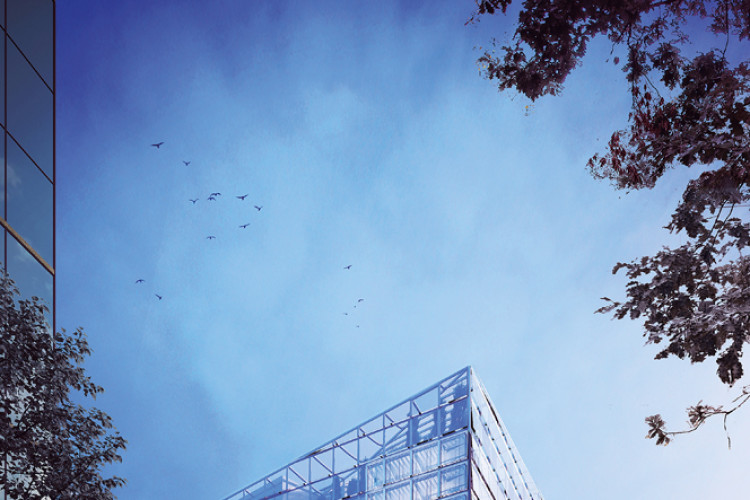 Steel producer ArcelorMittal is planning construction of a new global headquarters in Kirchberg, Luxembourg. And not surprisingly, structural steelwork is going to feature prominently in its design.
But ArcelorMittal does not stop there when it comes to putting its money where its mouth is. The new building will not only feature steel-frame construction but will also become the flagship for Steligence – an ambitious new construction assessment methodology developed by the company's R&D division. Another 50 projects also designed according to the Steligence methodology are already being planned.
Designed by French architect Wilmotte & Associés, the 16-storey building will use between 5,000 and 7,000 tonnes of steel and follow one of the key Steligence principles: 'cradle-to-cradle design', meaning that the materials used in construction can be reused after it is dismantled without the need to recycle them.
Other Steligence-related features include prefabrication, cutting down the time spent at the actual building site and consequent disruption.
Work begins in summer 2019 and is due to complete by autumn of 2021, making the 55,000m2 building the first of many planned projects intended to demonstrate the versatility and scope of the Steligence concept.
ArcelorMittal says that its ultimate aim is to create an objective methodology with which to assess construction alternatives and enable an unbiased comparison between options. The crucial point for the company is that it believes this will demonstrate the superiority of best-in-class steel products over the alternatives.
And this will break down many urban myths, according to Dr Olivier Vassart (pictured below), who combines his role as ArcelorMittal's executive director of global R&D with his work as professor of steel & composite structures at the Catholic University of Louvain in Belgium.
Buildings are being designed on principles that ignore the advances that technology has made, argues Vassart, giving examples from his own experience as a teacher:
"Young architects I teach are already convinced that if you increase the free span of a structure then you will increase the cost so, when they start designing a building, they will put pillars everywhere because it is cheaper. That is true of conventional concrete buildings but not of composite construction," he says.
"In fire engineering it's the same: people are convinced that there is an issue with fire and steel structures. But that's not true."
Vassart, an expert in fire engineering, points out that in the last 20 years we have made tremendous progress in understanding how to design steel structures to cope with fire. And he claims that now it is entirely feasible to construct a steel and composite building without any fire protection while meeting current standards.
The impetus to develop an objective assessment methodology for construction came in 2015, following research carried out amongst not only ArcelorMittal's own customers but also other stakeholders, including building owners, architects, occupants, investors and construction companies – "every link in the construction chain", as Vassart puts it.
The results showed that each stakeholder had significantly different views. The investor, for instance, was primarily interested in the area available for occupancy once a building was constructed, while architects consider the visual appeal and construction companies are mostly concerned with how they would build it.
The whole process is also very fragmented, with various specialists intervening at various stages of design, whether it be M&E consultants or drylining contractors. "At the end of the day you end up with a building that is composed of parts that have been optimised but this does not result in an optimised building," concludes Vassart.
The research identified key performance indicators (KPIs) for each stakeholder group and the task then was to create a methodology that took these all into account when designing a building.
In a white paper published by ArcelorMittal to publicise the Steligence concept, the aim is summarised thus: "to develop a trustworthy assessment methodology so that construction options can be compared objectively in terms of their sustainability impacts; use that methodology to assess the sustainability impacts of best‐in‐class steel construction solutions in comparison with the most representative system on the market; and then port the methodology to a platform that can be easily integrated into existing virtual building design tools."
The Steligence approach, then, is intended to be holistic and to promote sustainability. ArcelorMittal sees this as the future for construction as environmental concerns become ever more important. There are 17 KPIs which are generated from three broad areas that are affected: environmental, economic and social.
For instance, under the 'environmental' banner, the KPIs are energy efficiency, renewable energy, consumption of natural resources, harmful emissions and "end‐of‐life and potential reuse and recycling benefits".
The social KPIs range from thermal comfort and architectural quality to 'safety and nuisance of site process', while economic KPIs include the speed and quality of construction and the life-cycle cost.


These are then used to measure how the standard office building, constructed using the most conventional technique and design, measured up against the best construction components produced by ArcelorMittal.
The company commissioned research into low- to medium-rise office buildings constructed in Western Europe, Southern Europe and Northern Europe and used the findings to produce a model for the 'typical office building' likely to be built between 2018 and 2020.
The result is an L-shaped building, eight storeys high, with just over 1,000 occupants and the same climate as Luxembourg. The 'baseline' construction would consist of concrete foundations, concrete walls and slabs cast in-situ with prefabricated concrete beams and columns, and aluminium-framed cladding.
Recognising that ArcelorMittal did not have the resources to do this on its own – and to counter any accusations of bias – Vassart's team had recruited a team of reputable partners and experts to review and vet the methodology as it was developed.
Schroeder & Associates, one of the largest engineering consultancies in Luxembourg, supervised the design of the different building scenarios; consultants EC Harris and Arcadis advised on elements such as project management, thermal design and construction economics, and Belgian steelwork subcontractor Victor Buyck Steel Construction and steel fabricator Wallerich Luxembourg provided the pricing model for building components.
This team of specialists then carried out a theoretical comparison between conventional construction and that which employed not only Steligence but also ArcelorMittal's own patented products including Angelina lightweight castellated beams (designed to reduce the need for supporting columns) and Cofraplus 60 floor decks that are designed for medium spans up to 3.6m without props.
The result of using the Steligence methodology was a building that outperformed the conventional building on every KPI, including BREEAM (Building Research Establishment Environmental Assessment Method) and LEED (Leadership in Energy and Environmental Design) environmental assessments. The Steligence-designed office was also cheaper and quicker to build, theoretically more comfortable to work in and, at the end of its 60 year life, could be recycled and the steel retrieved for further use – hypothetically, that is.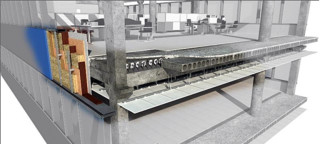 So ArcelorMittal's new headquarters, together with the other projects in the pipeline, are expected to prove that the Steligence methodology can actually deliver the benefits that are being claimed for it.
"The shape and the architecture of the building is complex yet more than 80% of it will be built with only five pieces that will be repeated everywhere, demonstrating that standardisation doesn't mean shoeboxes," forecasts Vassart.
"A lot of commentators make a link between standardisation and modular building but our headquarters will not be a modular building though it will use standardised components. We want to increase the efficiency of the construction industry by using standardised pieces but without compromising the freedom of the architect," he adds.
The scale of ArcelorMittal's ambition, and the resources it is prepared to devote, are daunting. It describes Steligence as a "radical and disruptive" new concept that will promote better dialogue and cooperation between suppliers and stakeholders throughout the design phase of projects, and improve collaboration across supply chains.
And ploughing tens of millions of Euros to building its headquarters in a very public site in accordance with that concept, untried as yet, shows chutzpah at least.
The Steligence programme is one of two major R&D programmes the company is running, the other being the "S‐in motion" programme for the automotive sector (though the company is not setting up a car factory any time soon).
Yet the whole enterprise is, according to Sarah McCann-Bartlett, director general of the British Constructional Steelwork Association, wholly in tune with the forward-looking ethos of the industry.
"The structural steelwork sector has always been at the forefront of research & development. The sector was an early adopter in the use of integrated computer software and automated machinery to support the automated, offsite steelwork design and manufacturing process for steel frames," she points out. 
"Steelwork contractors have been using 3D models for decades, which drove the early take-up of BIM.  And now, steel framed buildings are including services in fully integrated offsite steel modules, driving further savings in cost and programme."
And, while McCann-Bartlett clearly has a point, it is difficult to think of any multi-national putting its money so firmly where its mouth is. Construction professionals everywhere will be watching to see whether the new headquarters goes up on time and to budget, or if the company is left eating humble pie.
This article was first published in the September 2018 issue of The Construction Index magazine
UK readers can have their own copy of the magazine, in real paper, posted through their letterbox each month by taking out an annual subscription for just £50 a year. Click for details.
Got a story? Email news@theconstructionindex.co.uk