JCB might claim with some justification that its original invention – the now ubiquitous backhoe-loader – revolutionised the way the construction industry works. Now, 60 years on, it claims to have done it again.
The company has spent three years developing the new machine, and will unveil it officially at Bauma in April. Although essentially a 10-tonne wheeled excavator, the new Hydradig looks nothing like traditional machines in this class, and appears to have eliminated many of the problems associated with them.
"Every once in a while a revolutionary product comes along and changes everything – for our customers, for our dealers and for us as a manufacturer," says JCB chief innovation & growth officer Tim Burnhope, citing not only the backhoe loader but also the Loadall telescopic handler. "Those two were really special," he adds. "They revolutionised the way customers go about digging, loading, lifting and placing bulk material."
But, says Burnhope, since those machines were launched much has changed in the industry, both in the nature of the work and as a result of an increased focus on safety. And customers want construction equipment that is appropriate to this changed world.
"Three years ago our customers highlighted the need for change in response to how the industry was changing," explains Burnhope, giving examples of the way the industry now works: "Few contractors are building new motorways; instead they are widening existing motorways, and they are only allowed to close one lane. They are not digging trenches for utilities – they are doing keyhole surgery on busy sites."
All of which means construction companies want more compact machines that they can use for a wide range of activities. At the moment, many of them opt for wheeled excavators because of their lifting capability and mobility. But they say that the wheeled excavators currently on the market have serious limitations when it comes to working on congested sites or in an urban environment, particularly when it comes to visibility, stability, mobility, manoeuvrability and serviceability.
"Never before have we seen customers demand more from a product class," says Burnhope. "Visibility from the cab was the main customer consideration because of on-site safety concerns. Stability was next on the list, as machines are now being called upon to do an increasing amount of heavy lifting, not just excavating.
"As job sites become tighter many customers are demanding improved manoeuvrability, while others need increased mobility to allow machines to move between sites more quickly. Finally, customers now expect excellent ground-level serviceability. So our design challenge was to develop a single machine solution that would deliver against all five customer challenges."
And that is what JCB set out to do, starting with a blank sheet of paper, and developing the machine in secrecy over a three-year period under the code name "Project 710". "We assembled the very best team available to us from right across the JCB group," explains company chairman Lord Bamford, who apparently initiated the project.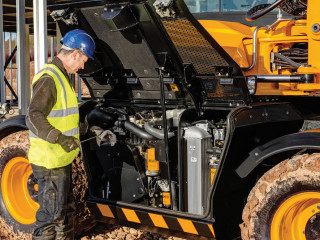 "That team covered a wide range of disciplines and did a tremendous job in analysing what customers needed. We then handed the project to a group of innovators to come up with a solution that defied convention."
Rather than tweaking its existing wheeled excavator range, JCB started from the ground up to address all five of the criteria identified by customers. The result is that the Hydradig looks and feels very different from anything currently on the market. The firm calls it a "ground-breaking digging, lifting, loading and tool-carrying machine for urban construction, highway maintenance and municipal operations".
The unusual look of the machine results from the desire to improve visibility for the operator – something that many customers cited as their top priority. JCB wanted to create a "cone of visibility" that means the operator can see all four wheels and anything within one metre of any point on the machine. "Those are not just pretty shapes from the design guys," says JCB group engineering director Mick Mohan. "It is shaped to maximise sight lines at any point."
But giving the operator all-round visibility could only be achieved by moving the engine and key drive train components from the usual high position behind the cab. This presented JCB with a conundrum, says Mohan, namely: "where do you put the parts that you normally have on the top?"
JCB drew on its knowledge gained in designing telescopic handlers to solve this one. It has mounted all of the major engine and driveline components within the lower chassis, resulting not only in much improved visibility, but also in a more stable machine that has a centre of gravity up to 1.5m lower than competitors' models.
"The effect is highly dramatic for roading, digging and lifting," says Mohan. "And it also means that the weight is positioned where it can be most effective."
And with the engine, driveline, hydraulic and diesel tanks mounted on the lower chassis, the upper structure has a reduced tail swing of just 120mm, which JCB says is 29% less than any competitor's machine, and means it can work on confined construction sites and within a single motorway carriageway.
The lower centre of gravity makes the Hydradig very stable during lifting operations. It can easily lift 1,000kg at full reach over 360o resting only on the wheels; no stabilisers or dozer blade are required to provide extra stability.
The weight distribution is far more even than it is on traditional 10-tonne mobile excavators, and the driveline layout offers a stepless 0-40km/h speed range with no break in tractive effort as speeds increase or decrease. And, at 2.65m, the wheelbase is longer than other machines in this class.

All of this means that, compared with traditional wheeled excavators, the new Hydradig is very smooth when travelling at speed on the road - so no more of the back-and-forth "nodding" action that resulted in mobile excavators being nicknamed "rubber ducks".
Manoeuvrability has been addressed by fitting the Hydradig with the axles JCB usually uses on its Loadall telehandlers with oscillation of +/- 8° on the front axle for rough terrain traction and stability. It also has three steering modes as standard – two-wheel steering for high road speeds plus four-wheel and crab steering – and an optional reverse steering button that allows the operator to use all three steering modes while the cab is facing in either direction.
The machine can turn in a space of less than 4m in width on single tyres, or 4.511m when it is fitted with a front-mounted dozer blade. "Customers told us machines needed to turn in many more tight spaces within coned carriageways and urban sites," explains Burnhope.
They also wanted the machine to be easy to service; and moving the engine and all the key parts to the space between the wheels means they are all accessible from the ground. "All the daily checks can be undertaken at ground level, so there is absolutely no need for anyone to climb on the machine and work at height," explains Mohan.
The Hydradig is powered by JCB's 81kW (108hp) Ecomax diesel engine, which meets Stage IIIB/Tier 4 Interim emission levels without a diesel particulate filter (DPF). It comes with a range of options, including different tyres, combinations of dozer blades and stabiliser legs at either end of the machine, parallel lift and radial lift dozers, and towing hitches connected to the chassis or through the dozer blade capable of pulling up to 3.5 tonnes.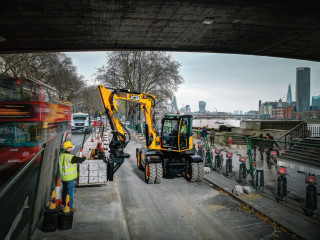 Customers can choose between a monoboom and a triple-articulating TAB boom, with three dipper lengths: 1.65m, 2m and 2.25m. The dipper nose geometry matches that of JCB's 3CX backhoe loaders and its larger midi excavator models, so it will fit a wide range of buckets and powered attachments.
And all Hydradig machines will be supplied with a five-year contract for JCB's LiveLink telematics package, allowing fleet managers to geo-fence the machine and to monitor fuel use and operating data remotely.
Although the Hydradig is the result of a complete "clean sheet" design process, it is built using many well-proven JCB components and technologies, including the firm's Ecomax engine, axles, hydraulic rams, cab and all of the major fabrications. And if the Hydradig name sounds familiar, that's deliberate says Lord Bamford, who personally came up with the name:
"It came from "Hydradigger", which was the name that my mother came up with for my father's first backhoe," he explains.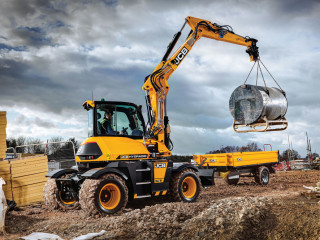 Thats not all from JCB
Aside from the Hydradig, JCB has also unveiled updates and additions to its existing machine ranges. Among them is a new 13-tonne crawler excavator aimed specifically at the hire market. The JS131 incorporates technologies that reduce the cost of ownership by around 10% compared with the company's existing JS130 model.
It has a 55kW (74hp) JCB Ecomax engine that meets Tier 4 Final emission standards without a diesel particulate filter, selective catalytic reduction or exhaust treatment fluid. Performance has been optimised to balance power, productivity and fuel economy, with the engine running at 1,800rpm, rather than the 2,050rpm of the 81kW engine in the JS130.
JCB chief innovation and growth officer Tim Burnhope says: "By offering the JS131 with our proven 55kW JCB Ecomax engine, we can provide a lower total cost of ownership proposition for our customers, with no compromise on machine digging performance."
Among the other new machines are four additional midi excavator models with operating weights of between 4.8 tonnes and 5.7 tonnes, available in conventional, reduced- and zero-tailswing configurations.
JCB is also upgrading its mid-range wheeled loader range, introducing many of the features from its top of the range 457 wheeled loading shovel to the 427, 437, 411 and 417 models.
It has also added a nine-tonne dumper with swivel skip to its site dumper range, and introduced a contractor-specific version of its mini excavator, designed for utilities contractors working on busy urban job sites.
The 14.5-tonne JZ140 reduced-tailswing excavator has been updated, and JCB has added a fourth model to its HiViz telescopic handler range.
Got a story? Email news@theconstructionindex.co.uk