The machine will be working on a £32m project to improve water quality in the Manchester Ship Canal for Balfour Beatty's customer, United Utilities. Balfour Beatty's supply chain partner Murphy will now start tunnelling under the Trafford Park site, including a road, to create a 3.66m-wide, 700m-long tunnel.
The 140t machine is designed for operation in soft ground conditions containing water under pressure.
It was driven from Staffordshire to the Manchester site before being lifted down into one of the three 30m-deep shafts Balfour Beatty has built as part of a project to prevent undiluted sewage entering the ship canal.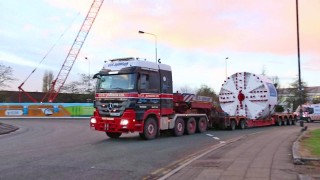 The scheme also includes 35m-wide, 12m-deep screening facility and a 30m-deep stormwater detention chamber.
United Utilities has published dramatic aerial footage of Gloria's delivery.
Got a story? Email news@theconstructionindex.co.uk