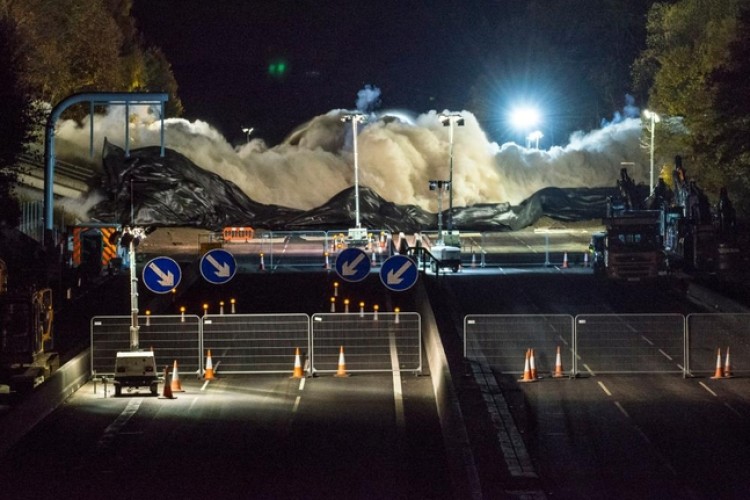 The demolition marks the first phase of works to replace the concrete bridge, which was deemed to be not feasible for strengthening works.
Replacement of the bridge is part of a wider £174m scheme that Balfour Beatty is delivering for Highways England. This section of the M3 is being converted it into a smart motorway, turning the hard shoulders on each side into running lanes.
The controlled demolition was carried out using a variety of methods to break up the structure and protect the carriageway beneath, including the installation of plywood protection, 150mm of timber mats and a further 600mm of crushed concrete. Unfolding geotextile curtains were used to contain the dust and rubble when the bridge fell on to the protected area of the road.
A workforce of more than 250 was involved in the early hours of Saturday 19th November. The work was completed on time and the carriageway reopened ahead of schedule.
Balfour Beatty managing director Stephen Tarr said: "I am delighted that the work went according to plan in spite of the poor weather conditions, safely, on time and the carriageway was reopened ahead of schedule. The bridge demolition and its subsequent replacement will help ensure that people, communities and businesses remain connected as part of the strategically important upgrading of the M3 motorway between junctions 2 and 4A that is nearing completion."
Balfour Beatty is due to complete work on the M3 in summer 2017.
Got a story? Email news@theconstructionindex.co.uk