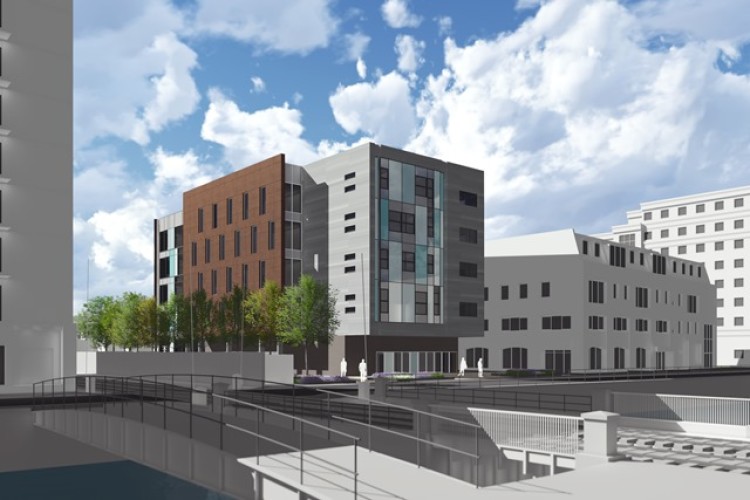 BAM has started work on a £16m contract for the Isaac Newton Building, which will house the university's departments of engineering, computer science and maths & physics.
The contractor has also been awarded a £12.5m contract to construct the Sarah Swift Building, which will be home to the university's schools of health & social care and psychology.
The Isaac Newton Building project involves extending and re-configuring some of the existing Engineering Hub, a facility BAM built in 2011, to create a further 7,500 m2 of floor area. Facilities within will include a semi-anechoic chamber, a Faraday Cage and a 500-seat lecture theatre. Completion of this project is expected in spring 2017.
At the same time, detailed design work is taking place on the Sarah Swift Building – a 5,500 m2 structure named after Lincolnshire-born Dame Sarah Swift, a 19th and early 20th Century nurse who founded the Royal College of Nursing. The five-storey building will house teaching areas, laboratories and other facilities. The building will include vibration-sensitive equipment, requiring BAM to meet certain design specifications.

BAM Construction is working with sister firm BAM Design on the Sarah Swift Building, which is due for completion in May 2017.
Construction manager Jason Pink said: "Working with BAM Design means we can work even more efficiently, drawing best value solutions into the design. Being based in the same office means we can review the design side by side as it develops, promoting buildability and keeping within the client's budget. BAM will work hard as always to ensure both projects benefit the local community and economy where possible."
Got a story? Email news@theconstructionindex.co.uk