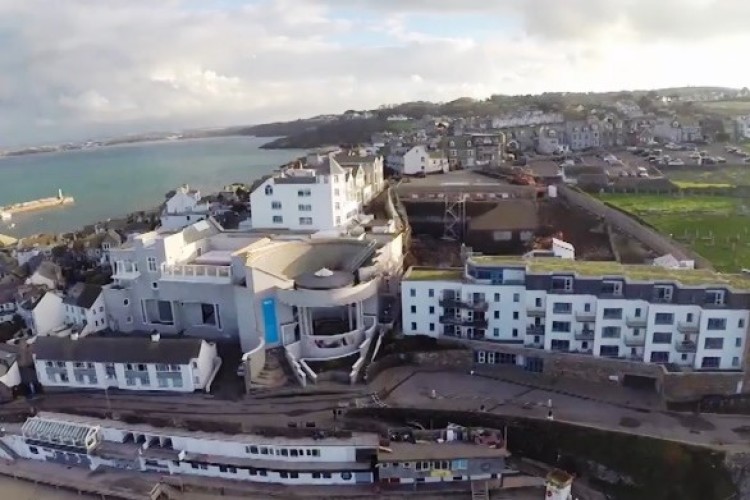 The existing Tate St Ives, opened in 1993, is to get a substantial two-phase re-modelling of its existing building's learning and roof terrace areas. BAM will also build a 1200m2 extension to the west of the gallery.
The project will create new gallery space for temporary exhibitions, as well improved art handling and additional visitor facilities.
BAM has already been carrying out enabling works for the extension since October 2014. (See second video below.) At the same time it has been discussing the detailed design of the main project works. These now start this month, with completion set for spring 2017.
BAM was appointed under the Construction Framework South West, after competition with other contractors. BAM's contract value is reported to be £8.5m.
During enabling works, BAM has already removed 1000m3 of blue Elvan rock, conducted significant temporary works, and extended the retaining walls. With the foundation pads complete, a concrete base slab is being poured in June.
The new building will have exposed concrete finishes and granite cladding to engender sympathy with surrounding local buildings.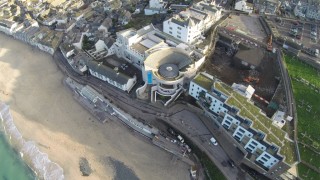 Two firms of architects are involved: the original architect of the museum, Evans & Shalev, and Jamie Fobert. Structural engineer is Price & Myers, with whom BAM worked on the University of the Arts Building at Kings Cross. Mechanical and electrical services are provided by Max Fordham and project management and quantity surveying will both be carried out by Sweett Group.
BAM construction director Graham Kingdon said: "This is a stunning building. Not only does it require the highest standards and finishes to protect and enhance the display of priceless artworks but it is also logistically very challenging because of the access constraints.
"We'll be working with BAM's specialist services engineering company which now covers the West of England and Wales, and the existing gallery of the Tate Gallery will be open for much of the build, closing only for structural works during the winter.
"It is a true signature job. We're very proud to be chosen to deliver something this special in such a beautiful location that will please so many people."
Got a story? Email news@theconstructionindex.co.uk