The NHBC, which is the house-builders' warranty organisation, said that basements were proving to be a growing cause of concern, with 14 claims over £50,000 costing nearly £3m in the last year alone.
There have been claims on 890 defective basements built since 2005, costing the industry a total of nearly £21m.
The majority of new basements (72%) are registered in London, where it has become fashionable for the wealthy to extend their houses downwards, underground.
NHBC figures show that large loss claims – those costing over £250,000 – have risen from £400,000 total in 2010 to £1.5m in 2011 and £1.7m in 2012. When combined with other smaller claims, the total costs have risen from around £3m in both 2010 and 2011 to £4.8m in 2012. These figures are expected to rise further as some claims are still ongoing.
NHBC's concerns came after the Health & Safety Executive earlier this year found that one in three domestic basement construction sites were being built without proper regard for the safety of the construction workers building them.
As the UK's leading insurance and warranty provider for new homes, NHBC has undertaken two recent surveys of 1,700 sites. These highlighted key problems surrounding the construction of basements.

Tanking defects were the main cause of claims – accounting for 66% of the claims and 62% of the value since 2006. These related mainly to the detailing of joints at ground level, floor level finishes and openings for services, pipes and cables.
NHBC found that 28% of sites had high or unknown water tables, but still proposed a Type A (tanked) or Type B (Water resisting concrete) solution that may not be suitable for the site. The majority of the large claims from 2012 were a result of water ingress and incorrect installation of the damp proof membrane.
NHBC is now looking to revise its standards and guidance on basements to help improve basement design and construction.
NHBC group head of house-building standards Mark Jones said: "In recent times, we have seen basements once again become a relevant and attractive addition to many houses. But as our claims figures and experience show, basement claims by their very nature are difficult to investigate and costly to repair, which can result in significant disruption to homeowners."
Pictured below is a car damaged by the build up of calcium carbonate deposits as a result of water ingress from the above podium slab.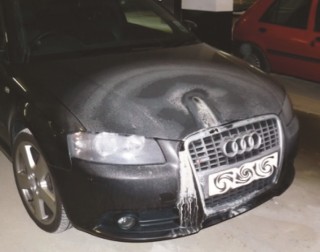 Got a story? Email news@theconstructionindex.co.uk