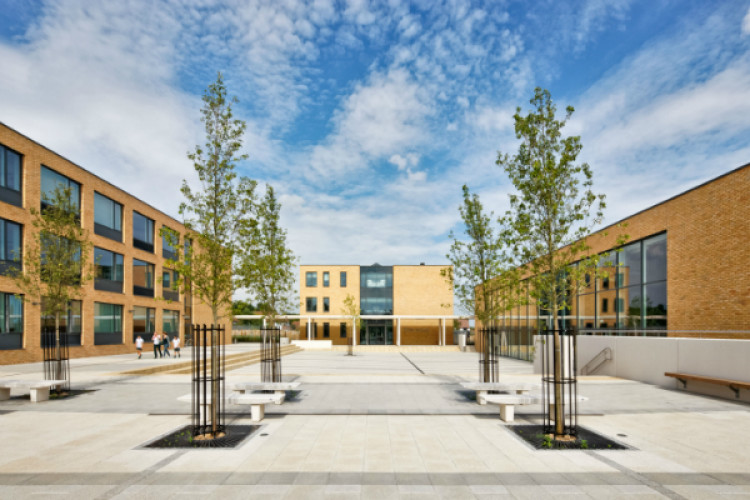 Designed by Nicholas Hare Architects and built by main contractor Balfour Beatty, the new £48 million secondary school, part of the Phase One £100 million Greenwich Council 'Building Schools for the Future' (BSF) scheme, features nine buildings linked by external covered walkways. The facility has been organised into three colleges or ''schools within a school" with 450 pupils each. In addition there is a post 16 college that will also accommodate 450 students.
At Crown Woods College, BBES' Modular Systems + division has designed and supplied multi-service 3D corridor modules that incorporate full M&E services as well as operating as air conditioning ducts for the classrooms. Lined with acoustic foam, the air path fulfils the design noise criteria to create an ideal learning environment for this cutting edge new facility.
Using the latest lean construction methods and off-site fabrication techniques, BBES has delivered the completed 3D modules and modular risers installed on site for an efficient and safe installation. Manufactured by BBES at its Modular Systems + facility, this allowed site construction to run concurrently, making significant savings on the project timeframe.
Utilising the innovative methods of the Modular Systems + facility in Wednesbury, BBES is able to maximise project efficiency whilst ensuring quality management is maintained throughout each process. The modular arrangement also eliminates material wastage, helping to maintain projects sustainable targets and provide significant cost and time benefits compared to traditional installations.

"Through a series of workshops we worked with the design team, the architect Nicholas Hare Architects LLP and BBES' project team to engineer the ideal solution for the services and air circulation components," commented Mark Hammonds of BBES's Modular Systems +. "By utilising an offsite prefabrication approach we have been able to deliver components in a much more efficient, sustainable and safer way."
"We are continuously improving and developing ideas from previous projects and the team is currently discussing further use of modularisation at further Greenwich Building Schools for the Future projects, including Plumstead Manor and Eltham Hill Schools. Despite being a mix of new build and refurbishment, the plan is to maximise modularisation on these schemes to help achieve Zero Harm strategy," commented BBES's Project Manager Simon Stothard.
The successful completion of the Crown Woods College project further demonstrates BBES's ability to deliver complex M&E schemes safely, efficiently and sustainably whilst meeting targeted occupation dates.
Got a story? Email news@theconstructionindex.co.uk