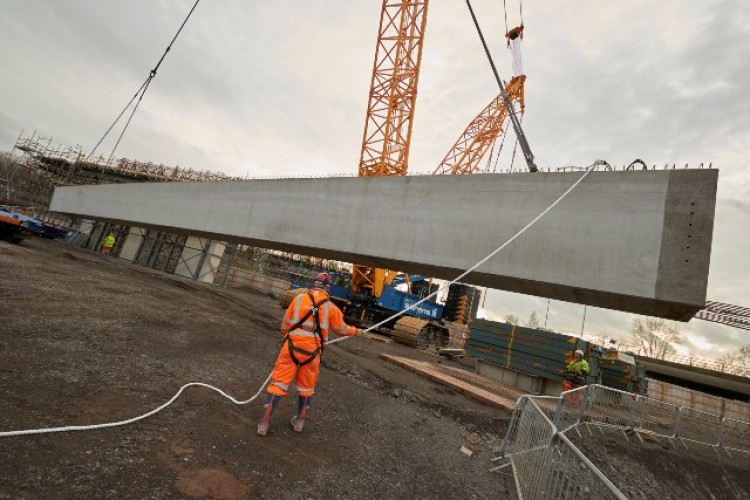 The Merseylink construction consortium lifted in the first 106-tonne concrete beam at the Bridgewater junction in Runcorn, where the new Astmoor Bridgewater viaduct is being built over the Bridgewater canal. Two elevated slip roads are also being constructed.
A 550-tonne crawler crane was brought in from Belgian lifting specialist Sarens for the job.
This junction will form a key part of the new 9.2km link road, diverting traffic across the new Mersey Gateway Bridge to relieve congestion on the ageing Silver Jubilee Bridge.
Over the coming months, 156 beams will be placed between 24 bridge piers to create the base of the highway for the Astmoor Bridgewater viaduct and the two slip roads.
The beams measure around 40 metres long and weigh up to 106 tonnes. They are pre-cast in Ireland by Shay Murtagh and shipped from Dublin to the Liverpool Docks and onwards to Halton by road.

An additional 83 bridge beams, varying in size, will also be installed for road elevations at the Ditton, Widnes Loops and Lodge Lane junctions.
Elsewhere on the site across Runcorn and Widnes, the Merseylink team is rerouting and rebuilding the new route that will connect the new bridge to the main motorway network in the north west of England.
On the main bridge itself, the hammerheads – the lower part of the pylons – at the north and south pylon are now complete. Construction of the first deck section, or pier table, is due to begin at the south pylon, and the form travellers are being assembled.
The Merseylink contracting team comprises FCC, Kier and Samsung C&T. The new bridge is scheduled to open in the autumn of 2017.
Got a story? Email news@theconstructionindex.co.uk