Beaver 84 had a big birthday this year: the clue's in the company name. Founded in 1984, the company is now entering its fourth decade and while bigger plant hirers have come and gone, Beaver 84 has steered a steady course and emerged in good shape.
The company's strategy is a simple one: grow the business without over-reaching yourself, offer a specialist service and don't spread yourself too thin.
Hence Beaver 84 is well-known for its nonmechanical equipment and in particular trench shoring, temporary fencing and light access equipment. For many contractors up and down the land, Beaver 84 is therefore the go-to supplier of essential site equipment. Now part of the French-owned Altrad Group, Beaver 84 retains is distinct brand identity and well-proven business model. Thanks to the type of equipment it supplies, and the type of customers it serves, the business straddles both hire and sales, a trick most mainstream plant hirers can seldom pull off.
But this year, it is the hire business that has seen the most activity, says managing director Steve Tysoe. "We've concentrated on the rental side this year and turnover has gone up by 39%," he says.
That increase in turnover has contributed to a 55% increase in bottom-line profitability, he adds.
In August, Beaver 84 announced annual profits of £4.2m on a turnover of £31.5m (up 15% on the previous year). The company's product range, which mainly comprises the sort of equipment that's needed both temporarily and frequently, caters for all stages in the construction cycle, but especially the early stages.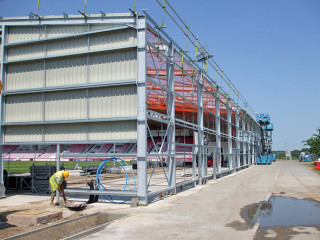 Demand is currently high as more and more projects get off the ground. "It's been a conscious decision to grow the hire business," says Tysoe. "The return on investment is better with hire; you do less for more," he adds. This year Tysoe oversaw a reorganisation of the company into three distinct divisions: groundworks, access and events. This new structure allows a clearer focus on distinct customer sectors, says Tysoe. All three still offer equipment for both sale and hire. The reorganisation was prompted by Beaver's acquisition this year of Star Events – a leading supplier of staging, lighting, safety barriers and associated equipment to both indoor and outdoor events including the Glastonbury Festival.
"Before that, events was a £2m-turnover business. It's now between £8m and £10m," says Tysoe. "So now we have an events division."

Events – far more than construction – is a seasonal business. At this time of year, Beaver's most active divisions are access and groundworks. And although Tysoe says there's a levelling-off in demand as we enter the winter months, he expects growth to resume strongly in the New Year.
"Turnover grew 15% last year and we expect growth of between 15% and 18% next year," says Tysoe.
"There's a resurgence at the moment in refurbishment work and Laing O'Rourke is due to start work on the new Hinkley Point power station soon," he adds. Laing O'Rourke's inhouse plant business, Select Plant, is one of Beaver 84's major clients.
Beaver 84's strategy of offering a specialist service to a wide range of customers continued to pay off this year with major contracts in the offshore industry.
These included a £900,000 contract for equipment used in a rig refurbishment project in Cameroon, West Africa, for Harris Pye Engineering.
Tysoe also hints at a big contract win in the offing in the telecommunications infrastructure market. Intriguingly, he says the company has even developed a new product for this job. With growth expected to continue through 2015, Beaver 84 is planning to steer a steady course. It currently has ten depots and opened its most recent one (in Cardiff) three years ago.
And while there are no plans to start opening up new depots to cater for the growing demand, Tysoe says we should expect to see more bolt-on acquisitions over the next 12 months.
This article first appeared in the November 2014 issue of The Construction Index magazine. To read the full magazine online, click here.
To receive you own hard copy each month in traditional paper format, you can subscribe at http://www.theconstructionindex.co.uk/magazine#
Got a story? Email news@theconstructionindex.co.uk