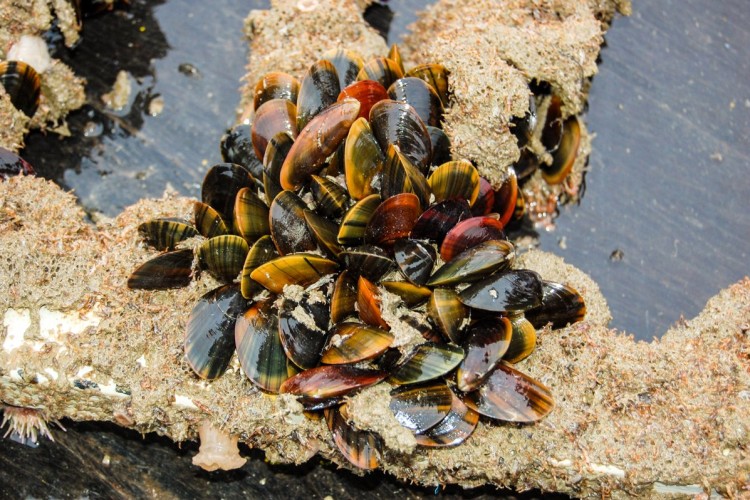 The first products from the North Sea Aquaculture project area are a success, said marine engineering contractor Deme, one of the participants in the venture. It is the first time that mussels have ever been farmed using rafts on wind farms, according to the company.
"The next generation of wind farms will also be producing food in addition to energy," said Wannes Voorend, biotechnologist at the Colruyt Group Fine Food.
The mussels were caught on the Belgian coast testing area as part of the North Sea Aquaculture projects. The first tasting took place this week: the mussels found to be delicious, said Deme. "These Belgian mussels have a higher meat content at 36% to 39% than other common mussels and emerged from the Colruyt Group's taste-and-use tests as being particularly flavoursome," added Deme.

Nancy Nevejan from the University if Gent added: "In addition, what is noticeable is that these mussels grow particularly quickly. Over 12 months, they reached full size, while the Zeeland soil mussels need 18-20 months to reach maturity."
Philippe De Backer, secretary of state for the North Sea, added: "Our national dish is mussels with fries. I'm very pleased to see that within some time, we will be able to serve true Belgian mussels. I believe that our North Sea has the ability to become a true sea farm on the long term, which will be a breeding base for not only mussels but also oysters and seaweeds."
Today the mussels are therefore still part of a research project but the ultimate aim is to market them. Stefan Goethaert, director of Colruyt Group, said: "We believe there's certainly a market for Belgian mussels. As soon as scaling-up is a reality, this product can be marketed, but considering we are now still in an innovation project with a proof-of-concept, this may take some time."
Got a story? Email news@theconstructionindex.co.uk