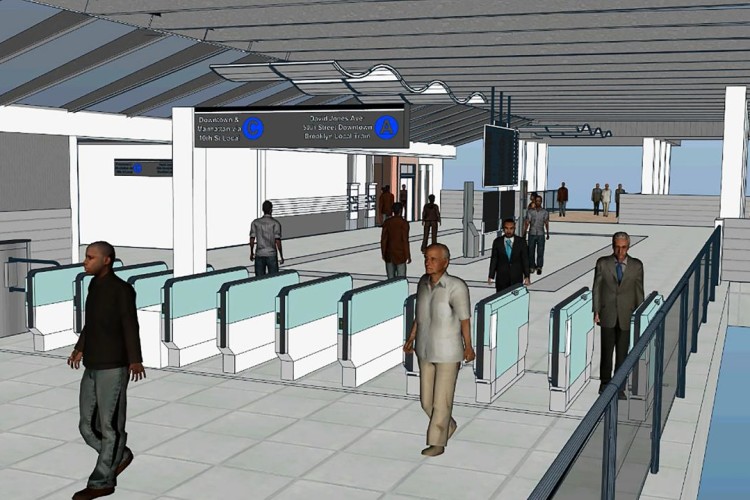 Legion's pedestrian simulation application models people's interactions with each other and physical obstacles, and activities, including circulation and evacuations, within public spaces such as railway stations, airports, sports arenas, tall buildings and at street level. The software supports more than half of the world's 40 largest transit agencies.
At the same time, Bentley has announced a new pedestrian modelling addition its software range. OpenBuildings Station Designer will enable collaborative digital workflows to model pedestrian activities and journeys to and from trains, platforms, and through stations.
Santanu Das, senior vice president of design engineering for Bentley Systems, said: "Because pedestrian traffic and capacity are major concerns for infrastructure planning and operations, collaborative digital workflows for pedestrian simulation need to be prioritised during design. Taking advantage of Legion's innovative pedestrian modelling capabilities throughout Bentley's comprehensive modelling environment will enable better decisions to improve pedestrian circulation, throughput, and overall safety."
Legion founder Douglas Connor added: "Pedestrian flows should be considered fundamental design criteria for infrastructure assets like train stations or airports which are intrinsically meant to serve the needs of pedestrians."

Aecom regional director Samya Ghosh said: "The urban space team of Aecom, based in the UK, has been using Legion software for various crowd modelling projects for more than 10 years - in numerous national and international projects. The crowd modelling is primarily undertaken to provide an evidence base for wider evaluation of existing and proposed rail infrastructure, public realm, sports venue and major event planning, and design or refurbishment of large institutions. The Legion software is widely accepted among clients for pedestrian micro-simulation modelling which our professionals use to analyse and inform designs and masterplans. In our recent projects, it has been increasingly important to integrate the pedestrian modelling with BIM and in this respect, I consider the merger of Bentley and Legion will open up a huge potential."
The Swedish acquisition is Agency9, based in Stockholm. Agency9 has already provided nearly half of Sweden's larger municipalities with city-scale 'digital twin' cloud services for city planning and related web-based 3D visualisation.
Phil Christensen, Bentley's senior vice president, reality modelling, said: "Our many city users globally have been asking for the useful capabilities which Agency9 has successfully implemented throughout Sweden, to take further advantage of their reality modelling programs."
Got a story? Email news@theconstructionindex.co.uk