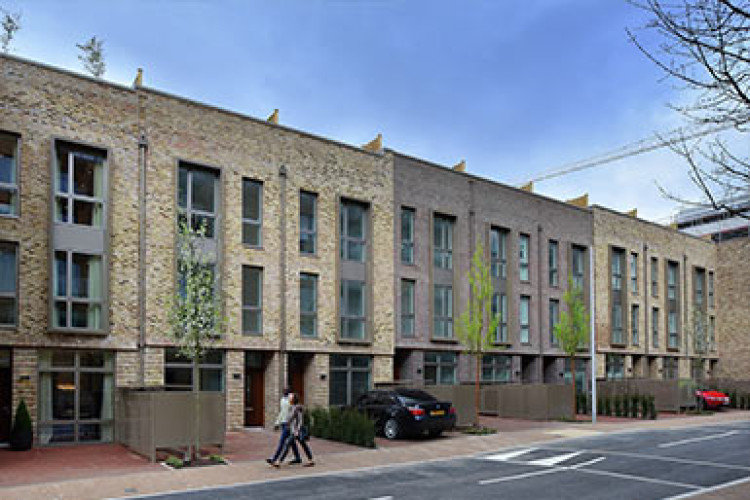 It has also unveiled a new design for high-density town housing.
Although revenue and profit were both marginally down, it was another strong year for Berkeley. With £3.25bn of forward sales, it remains on target to deliver pre-tax profits in the region of £2.0bn over the three year period ending 30th April 2018.
In the year to 30th April 2016 Berkeley generated £2,047.5m revenue, down 3.4% from the previous year's £2,120.0m. Profit before tax was down 1.6% to £530.9m (2015: £539.7m).
After tax, the retained profit for the year was £404.1m, of which £259.5m was distributed to shareholders. The remaining profit, along with existing cash balances, funded the £602.1m net investment in inventories and £99.9m net investment in joint ventures, ahead of the enhanced profit delivery anticipated over the next two years, resulting in year-end net cash of £107.4m (2015: £430.9m).
Chief executive Rob Perrins said: "While sales are down 4% for the year as whole, the market for Berkeley has slowed some 20% in the five months to May 2016 as the EU referendum approaches, with no new London launches in this period. This has had a more distinct impact on the higher end of the market which has also been affected by increased transaction taxes and the policy shift against buy-to-let investors. We continue to achieve sales prices ahead of our business plan with price inflation remaining for properties of less than £1.25m where demand is most robust, with Berkeley already absorbing the increased cost of transaction taxes above this level in its pricing. New sales activity is now focused on the periods beyond 2017/18 with a number of new launches planned for later in the year, once the EU referendum uncertainty passes."
Mr Perrins said that the market for the most expensive houses in London, previously snapped up by overseas investors, had slowed due to a combination of 'global macro uncertainty and the impending EU referendum' as well as stamp duty increases.
"As a consequence of these converging headwinds, reservations for the first five months of the calendar year are 20% down on the same period last year," he said.
With the top end of the market under pressure, Berkeley is raising its game in the mass market. "At more mainstream price points, the market remains inflationary due to the embedded under-supply and the ripple effect of the increased transaction costs at the upper end of the market."

Earlier this year, Berkeley launched a new high-density design concept called the Urban House, which enables twice as many homes to be built on a site compared to traditional terraced housing. The efficiencies are achieved by replacing the back garden with a private roof garden, building three storeys and retaining space at the front for a car and bicycles. The design works for private sale or affordable housing, Berkeley says.
The first 22 homes of this prototype have been built on two streets at Kidbrooke Village in southeast London while others are under construction at Green Park Village in Reading.
Chairman Tony Pidgley is hoping for a Remain outcome in the referendum but Berkeley could survive a Brexit, he said. "The outcome of next week's referendum on Britain's membership of the European Union is significant for the UK's housebuilding and property sector. Berkeley supports a vote to remain in the EU. London's status as the world's best big city is underpinned by labour mobility, cultural diversity and a constant influx of talent and investment from around the world, and the UK economy in turn is powered by the success of our capital city.
"However, London will always be a world city and a highly desirable place to live, work and play. For Berkeley, our brand, our land holdings and our forward sales will continue to differentiate and underpin our performance over the long term and, while we have a clear view about what the better outcome would be on Thursday 23rd June, we are confident about the future for our business.
"We are also encouraged by the priority accorded to housing by the new Mayor of London, Sadiq Khan. This issue has to become a political priority if we are to have any chance of delivering 50,000 new homes a year in London. His administration has already shown welcome signs of adopting an approach to delivery which is both ambitious and pragmatic.
"In terms of housing policy, it is important that policies developed are consistent with the ambition of delivering more homes across all forms of tenure. This includes: ensuring Local Plans are in place across the country; finding the right framework for property taxation; and recognising the pressure that the conflicting demands of CIL, Section 106 and affordable housing place on the delivery of new homes. None of this is easy but if we get it right, it will have a profoundly positive impact on the future of London and the country as a whole."
Got a story? Email news@theconstructionindex.co.uk