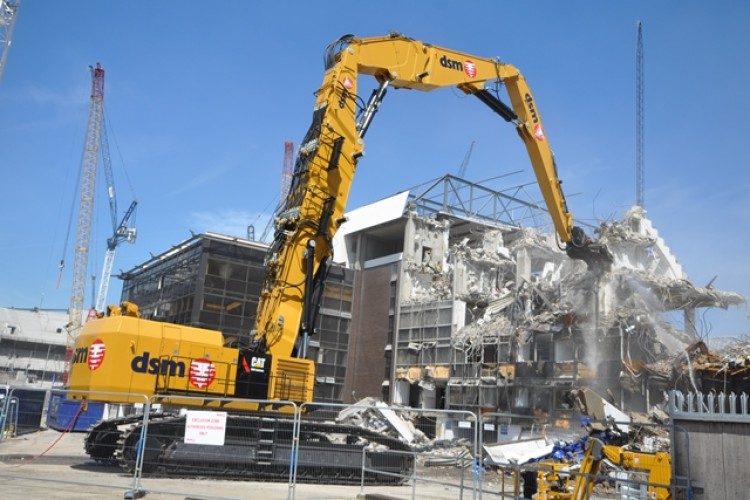 Bespoke booms have been created to support three different configurations with maximum reach of 70 metres.
The machine has been proven on demolition duties at White Hart Lane stadium.
In its 70-metre configuration, the machine weighs 225 tonnes, including an attachment weighing up to 2,500kg.
By reducing the boom size, it can operate a 7,000kg attachment at up to 38 metres, at the same weight, with its final 32-metre configuration allowing the 230 tonne unit to use a 12,000kg attachment. This has all been made possible due to extensive design changes and bespoke engineered components. These included lengthened track frames, the addition of a hydraulically extending undercarriage and the modification to four hoist cylinders.
To turn the machine into a typical demolition specification, a tilting cab with FOPS guarding has been added, with machine walkways for safe access. The addition of counterweight, including a bespoke removal mechanism to allow it to be stored onto the trailer, completes the main machine modifications.
To carry out its operations, bespoke booms were designed to support the three different configurations. By having an interchangeable combination, including intermediate booms, dippers and triple articulating booms, each configuration could be setup onsite from the trailer.

DSM director Des Kelly said: "This project is what true industry collaboration is all about. What we really wanted was to create a step change for the industry. So our vision was to invest in a much more versatile machine that could cope with both high reach demolition and very heavy duty hammer or processor work, to speed up the clearance of a site for our customers.
"So in practical terms, what we now have is a machine that has safety and versatility built into its design. This allows us to sit one unit on a project that can take down a high structure, reconfigure itself once the high rise work is done to speed up the demolition process and reconfigure itself again to complete the below the ground works using heavy duty hammers. It really is the Swiss army knife of the demolition industry.
"Commercially the whole project really stacked up for us. Because we co-ordinated and agree a project cost and timeline with Paul Edwards from Finning, we could engage with Cat OEM Solutions and Kocurek to make the vision a reality.
"It was definitely not a simple task, as many hours were put into delivering the final product, but now we have tested the unit out demolishing the White Hart Lane stadium, we can see just what a difference it will make to the business and our customers."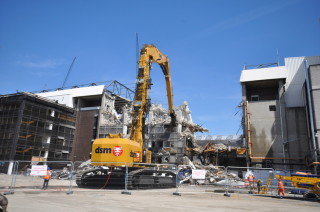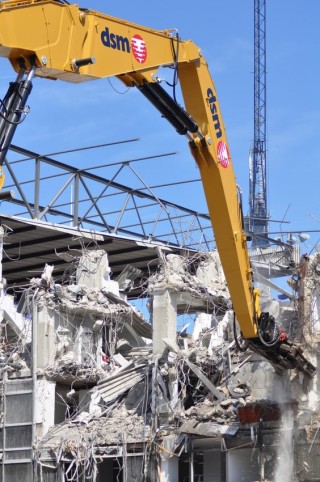 Got a story? Email news@theconstructionindex.co.uk