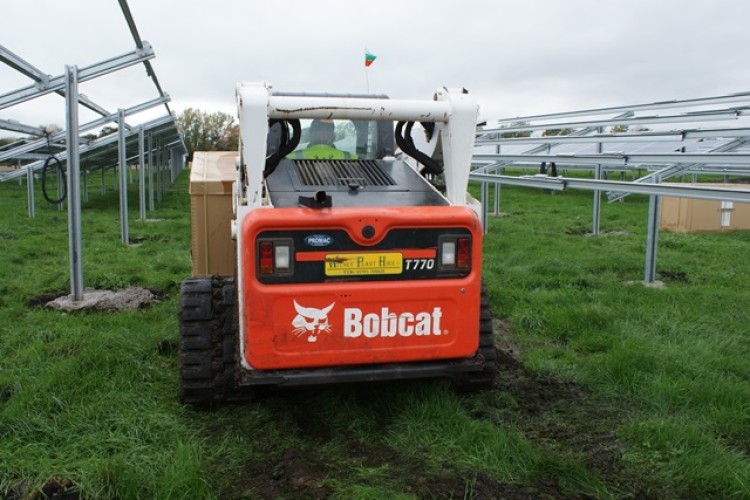 Witney has bought some T590, T650 and T770 models to meet growing demand from both traditional markets and newer ones.
Managing director David Johns said he originally bought Bobcats loaders for use by contractors doing planing and road repair work. "We are still very active in this market as several of our customers swear by the Bobcat tracked machines for this type of work," he says. However, a new market has also opened up.
"The market for Bobcat tracked loaders has been boosted with the growth of solar farms in the UK," Mr Johns said. "Contractors are carrying out this work in rural locations across the country, where the low ground pressure of the Bobcat loaders is obviously key to this application.
"The compactness of the new loaders is particularly suited to solar farm work as the Bobcat loaders can easily travel between the tightly packed rows of solar panels, which would be impassable with larger machines.  Much of the work in the UK is being carried out by companies from elsewhere in Europe, where they use Bobcat tracked loaders all the time.  The compactness of the loaders is also key to meeting safety regulations such as the 2.4 m non-encroachment limit when working near to overhead powerlines and other electrical installations."

The Bobcat T590 and T650 models both have vertical lift path boom arms designed for lift and carry as well as material handling applications.  Powered by the Kubota V2607 four-cylinder diesel engine providing 49.2kW of power at 2700rpm, the T590 model has a rated operating capacity of 992kg and a tipping load of 2834 kg. 
The T650 compact tracked loader is has a Kubota V3307-DI-TE3 four-cylinder diesel engine with an output of 55.4kW at 2400rpm. Rated operating capacity is 1271kg and tipping load is 3632kg.
The T770 has a 68.6 kW Kubota V3800-DI-T-E3 diesel engine with a rated speed of 2400rpm. It has a rated operating capacity of 1611kg and tipping load of 4602kg.  The T770 stands 2065mm high, with a length of 3597mm (including bucket) and width over the tracks of 1981mm. 
Got a story? Email news@theconstructionindex.co.uk