The GBH 2-28 F Professional and the GBH 2-28 Professional have a power output of 880 watts. The GBH 2-26 F Professional and GBH 2-26 Professional deliver a power output of 830 watts.  Users can choose between the model with a fixed chuck and the F model with changeable chuck.
The GBH 2-26 drills diameters of up to 26 mm in concrete; the GBH 2-28 drills up to 28 mm diameter.
Bosch claims that these are the first rotary hammers in their performance class to have 'kickback control', which shuts off the motor as soon as drilling goes awry. In the event of sudden and unpredictable rotation of the power tool in heavy-duty drilling applications – such as skewing of the drill in reinforced concrete – the built-in sensor shuts off the motor within a fraction of a second. This prevents unexpected kickback of the tool.
Both rotary hammers also have an active vibration damping system to reduce vibration levels to 11 m/s2.
Recommended retail price ranges from £117 to £199.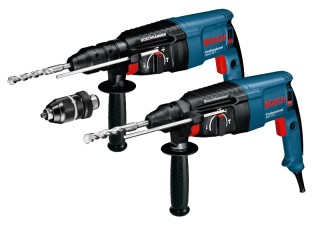 Got a story? Email news@theconstructionindex.co.uk