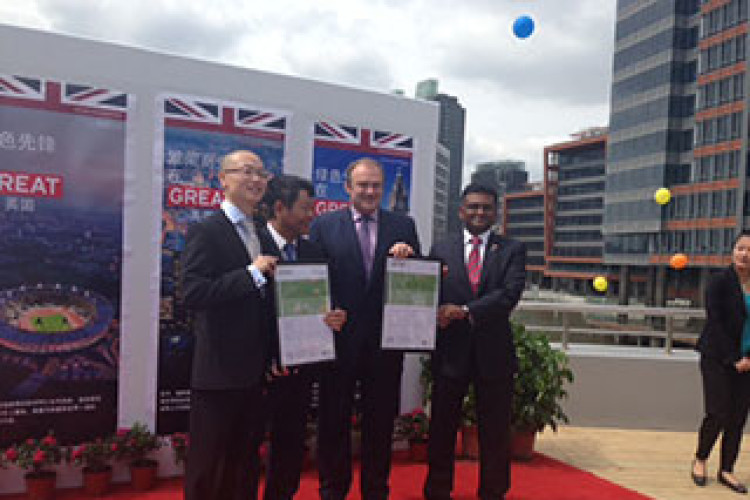 The new towers that form part of the Shanghai International Shipping Service Centre's (SISSC) marina development have used the BREEAM environmental assessment standard to demonstrate best practice in sustainable building design, construction and operation.
The SISSC's £4bn development on the Huangpu River comprises offices, retail, hotels, leisure and other amenities. The BREEAM-certified buildings form part of the latest phase of the development, which is set to become a Shanghai hub, equivalent to London's Canary Wharf.
A partnership between BRE and Chinese state-owned developer SISSC aims to demonstrate the growing importance that sustainable construction has in China. The BRE - SISSC  collaboration came about following  the visit of Chinese Premier Li Keqiang to BRE in 2011. Since then, BRE has been collaborating with a number of Chinese organisations on green building innovations and sustainability for key developments in China, including the Beijing Innovation Park and the Changsha Meixi Lake Eco-city.
Energy secretary Ed Davey said at the Shanghai event: "As well as warmly welcoming the BREEAM accreditation, I am here today to show the UK government's support for the collaboration between the SISSC, its associated stake holding companies, and UK industry to develop sustainable buildings, particularly with the use of BREEAM."
The BREEAM assessment for the towers encompasses a number of sustainability aspects including energy efficiency, land use and ecology, waste, water, pollution and health and wellbeing. To respond to the BREEAM standard, the designers added a number of features such as amenity areas around the building, a roof garden, 125 bicycle storage spaces, greywater and rainwater harvesting systems and 12 water source heat pumps.
BRE director Jaya Skandamoorthy, who attended the BREEAM award ceremony said: "I believe that this exemplar project demonstrates a new way of working between UK and China, and a true partnership that has enabled an exchange of knowledge and expertise, and ideas, which create the right solutions to meet China's local regulations and standards, and also set international benchmarks."
Got a story? Email news@theconstructionindex.co.uk