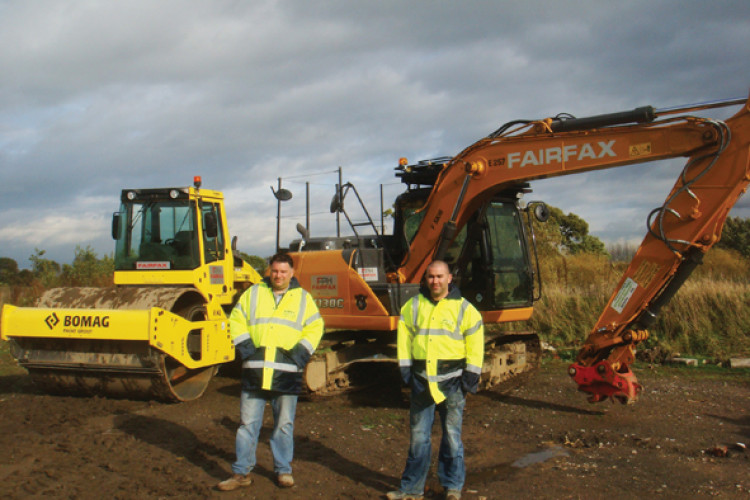 Only in the past year have Britain's plant hire companies finally been able to lift up their heads and glimpse daylight. It has been a tough few years for them, but now they are finally starting to invest in their fleets once again after several years of industry retrenchment.
At least, that's the story for most of them. There are exceptions, however, and one such is Fairfax Plant Hire, which appears to have had rather a good recession. So good, in fact, that its biggest challenges might lie ahead rather than behind it.
Fairfax's annual turnover has grown more than tenfold since the crash, from £750,000 in 2007 to nearly £10m this year. This is pretty good going at any time, but given how bad things got for the industry in the darkest days it is remarkable. So what's their secret?
"Hard work," says director Mark Love, before elaborating. "We don't offer plant hire, we offer a service, with a can-do approach. Haulage, repairs, welding, sourcing products that others haven't got - we'll do it. We look at the bigger picture; we make people's lives easy."
The result, he says, is a reputation among customers for being good in a crisis and for helping customers out of tight spots. A good example of this came last year when Mark's brother Matthew Love took a call from Speedy Hire at 1.30pm one summer day. Pakistan and Sri Lanka were competing in an ICC Championship Trophy warm-up match at Edgbaston cricket ground the following day; Speedy urgently needed an all-terrain fork truck for essential works before play could start. By 8.30pm that evening Fairfax had a JCB 926 working at the ground.
Fairfax Plant Hire is based in Hemingbrough, near Selby, and doesn't normally venture much further than one county away from Yorkshire. But on this occasion it was a case of 'needs must' and anything to help a customer.
The company is owned and run by the Love family. Mark, 40, takes care of the business-end of things. Matthew, 36, is the plant manager and runs the hire operations.
Mum Carolyn is the finance director and dad Kenneth, 65, "looks after the buildings", as Mark puts it.
Kenneth Love founded the business with his brother-in-law in the 1980s and the Love family took sole ownership in 2000. Father has basically handed over to the sons but is evidently not quite ready to retire.
The growth of Fairfax can be dated to 2007 when Mark joined the family business. Matthew had been there since leaving school at 16 but the elder brother had gone down another path. In 2007 he was a production manager for an international specialized cement company that was doing more and more business in China.
His employer wanted Love to relocate to China. He didn't fancy it. Instead he joined the family at Fairfax with aspirations to grow the business and join the global credit rush. Little could he know that the bubble was about to burst.
Hard work, opportunism and good customer relations saw the Loves through. Having Balfour Beatty (the former Birse Civils business) as a loyal customer helped, and it still accounts for 20% of revenue today.
There were plenty of good deals to be had buying used equipment cheaply from companies in distress and then slogging their guts out to find hires for them. They even bought a local tool hire business in 2008, GS Hire Centres (formerly Selby Tool & Plant Hire), which they now run as a separate operation, Fairfax Hire Centres, generating £1m a year in hire and sales revenue. It moved to new premises in 2009. Fairfax doesn't buy second-hand any more. Major orders this year include 60 Kubota mini-excavators from local dealer Venco Plant Services, as part of a £3.5m capital expenditure programme. Next year it will go up to £4m, Mark Love says.
Growth has been funded by borrowings. "We have learned how to borrow money well and borrow money wisely," he says. Rates have gone up in the past year or two but they are still invariably much less than the monthly repayments required on new machines. "You have to use equity in the business to subsidise the shortfall in the rates."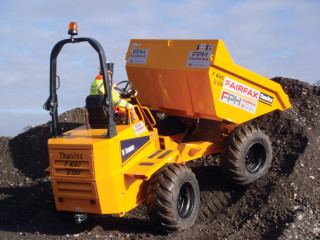 The plant hire fleet currently has more than 500 machines, including about 240 excavators from micros up to 30-tonners. The smaller ones are Kubotas, the eighttonners are Cats and the larger machines are Case or Doosan.
Then there are Bomag and Hamm ride-on rollers and Wacker Neuson remotecontrolled rollers. There are JCB telehandlers, Thwaites and Terex dump trucks and miscellaneous other pieces of equipment, including half a dozen powered access platforms.

Mark Love singles out the Case excavators as the backbone of the business. The machines have been "very reliable and helped us grow", he says, paying tribute to dealer CJ Leonard with whom the company has "strong relations". Business growth was made possible for the Love brothers by the infrastructure their father had already put in place, including 6,000ft2 of workshops, with four bays and a welding shop. The acquisition of the tool hire business five miles west, in Selby, enabled smaller inventory to be relocated there. Fairfax Hire Centres services local businesses, freeing up Fairfax Plant Hire to focus on regional companies.
Mark Love says that the plant hire business is now outgrowing its premises, though, and so there are plans to move to a new six-acre site nearby.
The alternative - to open a second depot in another town – was considered but ultimately rejected. "When you look at the model of who's doing well at the moment – the likes of Flannery, Lynch Plant, Fork Rent – they are all single depot models," says Mark Love. It costs money to do things right, to have a fully equipped workshop with overhead cranes, with space to avoid the need for reversing operations, with machine washing facilities. Better to have a single good facility than several inferior yards, he says. A single depot is also easier to manage and keep under control, which is always one of the biggest challenges for rapidly-growing organisations, especially family owned and operated ones. Fortunately, the brothers have the support of a good team, Mark says. There is a training manager, a health & safety manager, a service co-ordinator and a workshop manager. "Next year we'll need a service manager," he says.
Then there are the five apprentices, studying at Askham Bryan College in York. In total there are 35 employees in the hire business – some of whom have been there for years – plus a further 35 operators, including some agency operators, out in the field.
An important recent recruit is sales and marketing manager Ian Davidson who joined from A-Plant at the start of 2013. Having also worked for Hewden and Speedy in the past, he knows how the big hire firms operate. He also has some interesting observations about life at Fairfax. "I used to be a cross-hiring customer when I was at A-Plant," he says. "Here, it's all about helping the customer out. Matthew's reputation, running the hire desk, is that he will always do whatever it takes to help. If there is no machine available, he will cross-hire it if necessary."
Davidson also considers it significant that Fairfax has eight wagons to ensure everything gets to where it should be on time. Other operations of this size might only have one or two, he says.
Working alongside Matthew Love on the hire desk is another old A-Planter, Andy Robinson, who joined as assistant plant manager last year.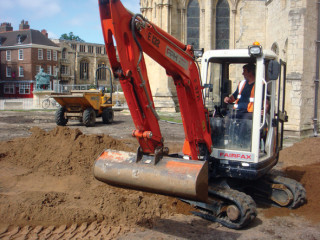 As well as people, systems are also being put in place. The business now runs on InspHire software package, which means that everyone is now working on the same system. "We are now looking to move to the next level," says Mark Love, "where we are more focused on what we do well". This is likely to involve some difficult decisions about what constitutes core plant hire business, focusing perhaps on the larger plant. They may have to start saying no to customers who want a Stihl saw as well.
Hiring out smaller kit takes just as much time to process but brings in much less revenue. "We will have to make a decision in the next year or so about a lot of the smaller stuff we offer," he says. In practice, this would mean a clearer delineation between the operations of the plant hire business and tools operation at Fairfax Hire Centres.
As for powered access, maybe that is something to expand into in the future, he muses, because it really needs to be a separate business.
He recognises that as the company continues to grow and becomes more corporate, it will be impossible for the brothers to be quite as hands-on as they were just a few years ago. The personal service that got them where they are may be jeopardised to a degree, and then they'll be exposed to a challenge from the next hungry brothers that come along and are prepared to sweat for market share.
Another area of concern is that the more machines you have in the field, the more likely you will need to respond to a breakdown somewhere at any given moment. This all takes infrastructure and Mark Love says that most plant dealers are simply not big enough to provide the service that is required of them. Increasingly, he says, if a customer has a breakdown, Fairfax itself has to be there on site the next day or sooner. The brothers can no longer rely on third parties, who have let them down too often. There are plans for Fairfax to put its own tyre fitters on the road, for example, but more significantly the next move is likely to be into dealership.
The Loves are not particularly looking to develop a full-scale machine sales operation – they would rather hire you a machine than sell it to you – but they feel that becoming a dealer is the only way to access the technical advice, training and support that they need, particularly as machines continue to become more technically complicated.
So don't be too surprised if, in the coming weeks or months, you hear that Fairfax Plant Hire has become a dealer for a leading equipment manufacturer. The Love brothers have ambitions.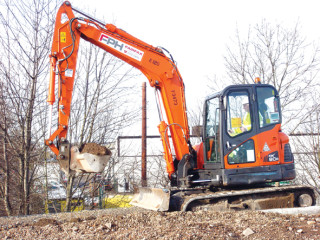 This article first appeared in the November 2014 issue of The Construction Index magazine. To read the full magazine online, click here.
To receive you own hard copy each month in traditional paper format, you can subscribe at http://www.theconstructionindex.co.uk/magazine#
Got a story? Email news@theconstructionindex.co.uk