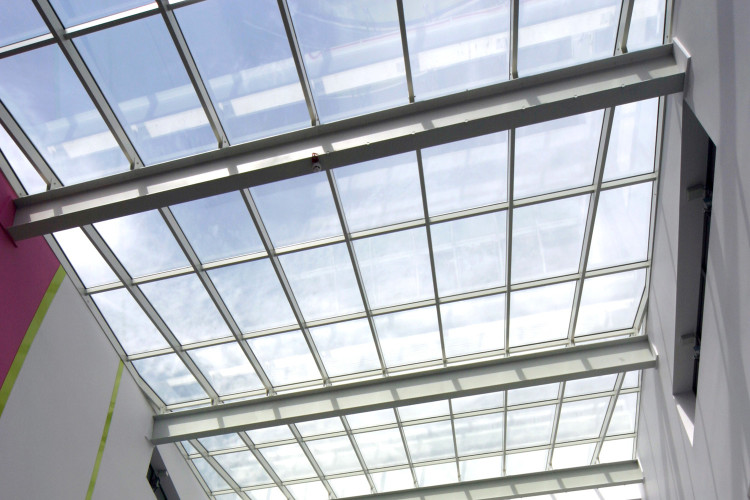 Members of the local community around Porlock Avenue, west Harrow, have had their first glimpse of the new Whitmore High School after contractor Kier completed the £42m design & build project right on schedule last month 
Eager residents, parents and children were given a sneak preview inside the new school before it opens for the start of the autumn term. They were shown around by head teacher Susan Hammond just days after Kier finished the imposing, ultra-modern complex, filled with the latest educational facilities and energy-saving technology. The newly-finished building has been widely acclaimed by parents, local residents and staff.
Guests were given a whistle-stop tour of the building's key features: the colourful, spacious reception area with a choice of dining facilities including a deli bar; a hub kitchen equipped to provide hot meals for several local schools; a towering sun-filled atrium leading to the two main teaching wings, and a sumptuous two-storey fitness suite for school and local community use.
Visitors were also shown the large sports hall equipped for double classes and community use – a key feature of many facilities and rooms in the new building. With pull-out tiers of spectator seating, the hall is designed to meet national standards for sports and games.
Next, the tour moved onto the drama and dance studio with sprung flooring; the main hall and stage overlooked by a digital control room; a learning resource centre and library positioned at the heart of the school; IT, technology, art and design rooms, plus an entire second floor of one wing devoted to science labs.
Head teacher Susan Hammond said: "I am thrilled with the new school. It provides fantastic opportunities for our students and the local community, with its wonderful facilities and colourful, welcoming spaces."
In addition, the new Whitmore High School boasts a wealth of renewable resources including water recycling, solar and geothermal energy, heat-recovery systems and 'intelligent' controls for automatic lighting and ventilation.
Kier Regional construction manager Kevin Byrne said: "Everyone involved, from the building and design teams to the school staff and local authority, are very pleased with the overall product."
Now Kier is embarking on the final phase of the programme – removing the temporary school accommodation it set up, demolishing the remaining ageing school structures and preparing the grounds for play and sports areas, including tennis courts, football pitch and running track. The entire project is on target for completion by the end of the year. 
**Designed by Howard Fairbairn & Partners, the new Whitmore High School has been created under the Building Schools for the Future programme. Kier previously completed seven new sixth form centres on behalf of the London Borough of Harrow.   
Got a story? Email news@theconstructionindex.co.uk