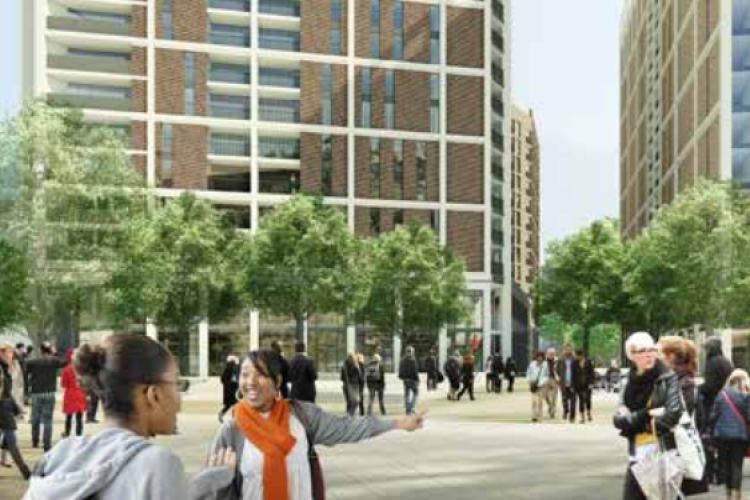 While more than half the UK's build-to-rent housing stock is in London, the rate of development is now faster outside of the capital, particularly in Greater Manchester.
Research by the British Property Federation (BPF) shows that the number of build-to-rent homes currently under construction across the UK's regions is nearly double that in London.
There are 10,244 build-to-rent homes under construction in the regions compared with 6,262 in London.
In Manchester and Salford alone there are more than 5,500 build-to-rent homes under construction.


The BPF said that this data provided the first evidence of momentum for build-to-rent outside London. When it comes to all built-to-rent homes, including already constructed, in development or planned, the capital has 38,648 compared to 31,176 in the regions.
The research also shows that the size of build-to-rent developments is generally getting larger. Twenty-four developments currently in planning will deliver more than 500 new rented homes each, whereas completed developments up until now have mostly delivered fewer than 100 homes each.
BPF director of real estate policy Ian Fletcher said: "The UK's build-to-rent sector has reached a significant milestone today, proving for the first time that the sector is making its mark across the regions. While the government now better recognises that we need a housing sector firing on all cylinders across the UK, our data is a timely reminder of build-to-rent's contribution to solving the housing crisis. This research will further professionalise the sector, ensure it is transparent and allow us to track its growth at a time when housing is at the top of government's agenda."
Andrew Stanford, head of UK residential at LaSalle Investment Management and chairman of the BPF's build-to-rent committee, added: "An ability to invest at scale was cited as a key barrier to the growth of the build-to-rent sector by the Montague Review in 2012. The BPF's analysis is encouraging because it demonstrates that high quality, fit-for-purpose build-to-rent schemes are no longer a rarity across the UK. Options for investors have noticeably increased across the country for those willing to be involved in the development process. This bodes well for the rapidly maturing sector."
Got a story? Email news@theconstructionindex.co.uk