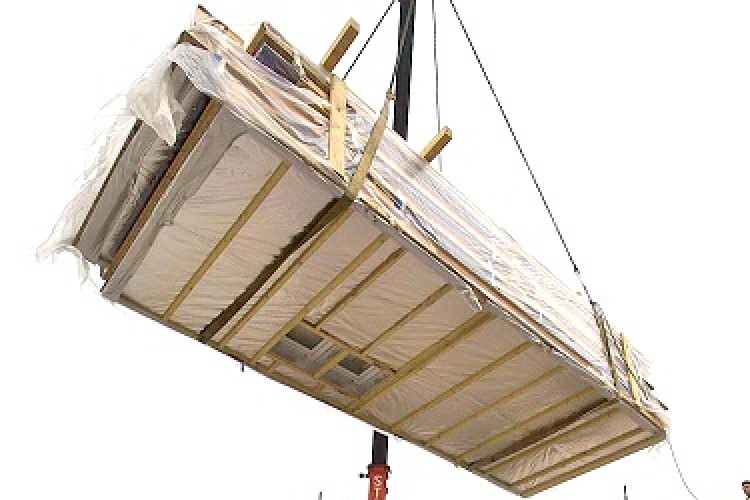 In its custom built factories, the innovative Scottish company is now manufacturing Val-U-Therm™, a new type of timber frame building panel with unequalled levels of thermal performance from which a house can be quickly and efficiently erected.
The Val-U-Therm™ panels, crafted from timber from sustainable sources and saturation-filled with injected polyurethane insulation, have the capacity to cut heating and energy bills to virtually zero.
The entire suite of Val-U-Therm™ products effortlessly exceed all current building standards but they have been engineered to anticipate all likely future regulations – allowing builders, developers and self builders to essentially "future proof" their properties and gain an A-rating in Energy Performance Certificates, the highest levels of the Code for Sustainable Homes and Passivhaus.
The secret of the new panels is their precision factory manufacture in Scotframe's high-tech production centres in Inverurie, in Aberdeenshire, and Cumbernauld, near Glasgow. Walls, ground floor and roof panels fit together so perfectly that all cold spots, draughts and warm air leakage are completely eradicated, meaning that the house is close to being hermetically sealed.
The Val-U-Therm™ product range is designed and manufactured for the entire building envelope – roofs, walls and floors. Wall panels are available in 90mm, 140mm, 184mm and 235mm stud sizes and provide an array of thermal performance options which achieve U values ranging from 0.22 to 0.09 depending on final wall specification and customer requirements.

Because they are so quick and easy to erect on site, the Val-U-Therm™ panels also slash construction timescales thereby speeding up the entire build programme.
Having superior thermal and insulation performance means that Val-U-Therm™ panels tend to be narrower than most other competing solutions on the market. This provides additional flexibility to elect to either increase the floor area of the property or create a smaller footprint dependent upon the site and commercial requirements. On a development of 50 houses for example, it may be possible to create space for up to two more homes.
Bob Edwards, Scotframe Managing Director, said: "Val-U-Therm™ offers unequalled thermal performance putting it head and shoulders above its competitors and will make a significant contribution to scheduled changes in the construction industry aimed at reducing our impact on the environment and creating more energy efficient homes and commercial properties in the future."
Mike Cruickshank, Scotframe Sales Director, said: "The UK is moving towards a target of zero carbon homes by 2016. The fact is that Scotframe is already there.
"With Val-U-Therm™, we have moved into another dimension in construction. This product looks ahead to how buildings should be in an ideal world and then proceeds to meet every requirement. We have not only seen the future, we have built it – and it works." 
Got a story? Email news@theconstructionindex.co.uk