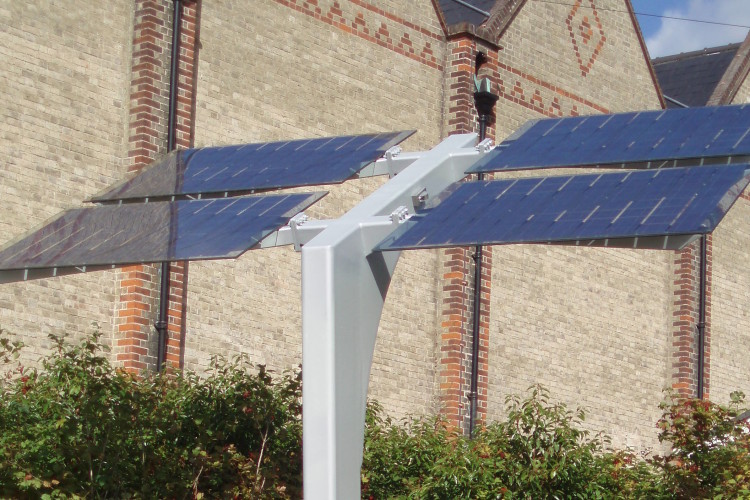 Collectively generating enough energy to power a large family home each year (3,868 kWh), these unique structures were created to serve the archive stores at Cambridge University Library. Co-designed by architectural firm Sadler Brown and photovoltaic expert EvoEnergy, the trees were recently installed in the surrounding grounds of the Grade II listed building. 
"Finding a renewable energy source for a listed building can be challenging," said Christine Howe, director of Sadler Brown Architecture. "We knew we would have to think outside of the box to develop a solution that was in keeping with the traditional design of the library while also generating enough energy to satisfy building standards." 
Designed and installed in just ten months, the trees were required to generate at least 10% of the final archive store's annual energy uptake. Inspiration for the design was taken from the windows of the original library buildings which are surprisingly reminiscent of Britain's traditional red phone boxes. 
Christine explains: "The library buildings were originally designed by Sir Giles Gillbert Scott who was also the master mind behind the iconic red phone box design. His influence is clear to see in the windows of the library which are made up clusters of small squares. Using square glass sheets with photovoltaic panels to create the 'leaves' of the solar trees allowed us to respond to his design, establishing synergies between the traditional building and these very modern additions."  
The Cambridge solar trees are part of the final stage in a £40m extension scheme to the library which has added four new major reading rooms, much improved IT facilities, an exhibition space and two major archive storage spaces over the last 15 years. 
The trees stand as tall as a street light – approximately 5 metres – and are constructed with a custom-made steel 'trunk' and 16 bespoke mono-crystalline panels each uniquely fixed to the steel using a specially engineered silicone bond. 
Dr Kevin Hard, Managing Director of EvoEnergy said: "Solar photovoltaic systems are going to play a significant role in our future energy mix.  We install Solar Photovoltaic systems on many buildings across the UK and this project has really demonstrated how we can integrate new technology that is sympathetic to the requirements of listed buildings and our increasing need for clean energy. 
"Both Cambridge University and Cambridge City Planning Department were incredibly accommodating and allowed us to push all the necessary boundaries to develop an innovative, attractive and vandalism resistant solution to the library's renewable energy needs. I look forward to working with Sadler Brown Architecture to further develop this system which we feel will revolutionise the use of renewable systems in listed or unusual buildings." 
The Cambridge University Library is one of just six legal deposit libraries meaning it holds at least one copy of every book published in the UK and Ireland.
Got a story? Email news@theconstructionindex.co.uk