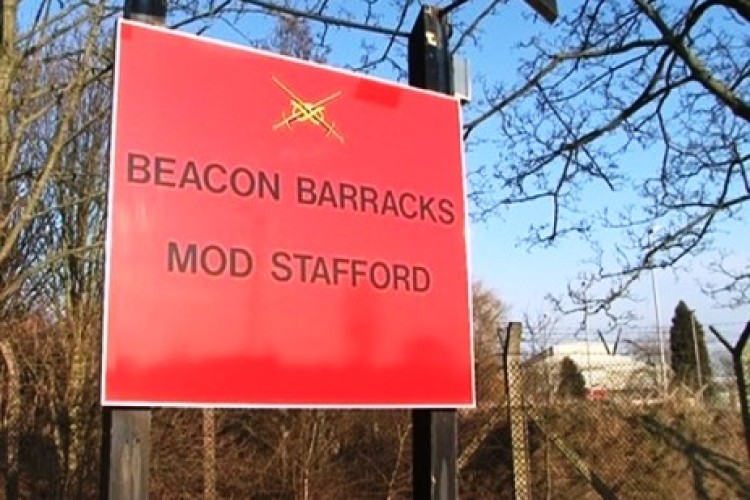 The contract notice for the project was published nearly two years ago.
The Defence Infrastructure Organisation (DIO) has now issued an invitation to submit final tenders (ISFT) to Carillion, Kier, Lend Lease and Skanska.
Beacon Barracks will be redeveloped as part of the BORONA programme following an announcement by the MOD in July of 2011 that the base is to become the home of two additional signal regiments.
This development will provide office, technical, facilities and living accommodation for forces personnel as they prepare for operations. A parallel project will provide some 360 military houses on MoD-owned land next to the barracks for personnel stationed in Stafford.
The project involves design and build of single living accommodation, regimental headquarters, mess and catering facilities, technical workshops, vehicle garaging, physical recreational facilities and a medical centre.
DIO principal project manager Stuart Gallacher said: "DIO's priority is to support our Armed Forces and their families. This project will be of great benefit to existing and rebasing troops, as well as the Staffordshire economy. We are delighted to issue ISFTs to these companies and look forward to receiving their tenders.

"Following HM Treasury approval to move to the next stage of the bidding process the ISFT represents a key milestone in the project and formally closes the dialogue undertaken with the Participants following the evaluation of initial bids and technical solutions."
The ISFT will enable the project to meet the in-service date of August 2015.
BORONA programme team leader John Waterhouse, the, said: "This project demonstrates the MoD's investment in Stafford and makes excellent use of the MoD estate as we return British troops from Germany."
In a separate move, the DIO has got planning permission from Winchester City Council to redevelop its Worthy Down site, bringing together various military training operations.
This re-development scheme, known as Project Wellesley, is expected to take around five years to complete. It involves the relocation of military units from The Princess Royal Barracks Deepcut in Surrey, which DIO will release for sale after it is vacated.
Redevelopment will also see the Defence Maritime Logistics School brought in from HMS Raleigh in Cornwall, and the RAF Supply & Movements Training Wing from RAF Halton, near Aylesbury. However, there are no plans to close either HMS Raleigh or RAF Halton. The Royal Logistic Corps Museum will also be moving from Deepcut to Worthy Down.
Got a story? Email news@theconstructionindex.co.uk