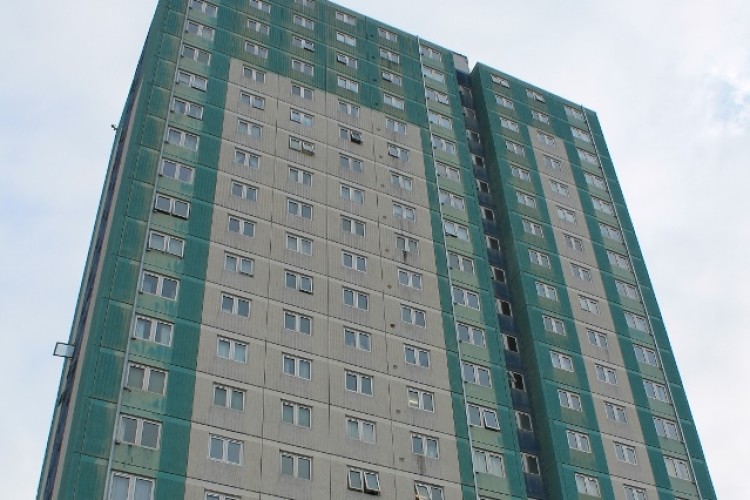 Fitzwarren Court in Pendleton was scheduled to be demolished as part of a wider £120m regeneration of the area, but the plans were halted in 2016 when social housing provider Salix Homes secured funding to modernise the block.
Salix Homes is investing £7.5m to refurbish the 1970s high-rise along with 10 terraced homes on the neighbouring Rosehill Close.
Its contractor on the job is Casey Group, which started work in September and is expected to complete by summer 2020.
As part of the investment programme, the ageing tower block, which has 135 one-and two bedroom apartments, will be fitted with new kitchens and bathrooms, an energy efficient heating system, new windows and doors and the upgrading of communal areas.
Salix Homes is also installing a sprinkler system and fire alarm system as part of its safety enhancement programme across all of its tower blocks in Salford.
Externally, the blue and green tower will be rendered and transformed in a grey, green and orange colour scheme selected by the residents.

Salix Homes chief executive Lee Sugden said: "Residents at Fitzwarren Court and Rosehill Close have been in limbo for several years with a question mark over the future of their homes, so we are delighted to announce that our major improvement and modernisation scheme is now finally underway.
"This is an exciting development for Salix Homes and our residents, and we are confident that this long-awaited refurbishment programme will not only benefit the residents who live here, but it will also compliment the wider regeneration taking place across Pendleton."
The start of work at Fitzwarren Court comes as refurbishment of another Pendleton tower block, Albion Towers, nears completion. Casey Group's £3.9m facelift of Albion Towers completes in early 2019.
Casey Group contracts manager Brian Knowles said: "We are looking forward to delivering the refurbishment to Fitzwarren Court and Rosehill Close. The proposed project will transform the appearance, practicality and sustainability of the block for many years to come. Casey has worked closely with Salix Homes to produce a design that will bring the high rise building up to modern standards in terms of appearance and performance."
Got a story? Email news@theconstructionindex.co.uk