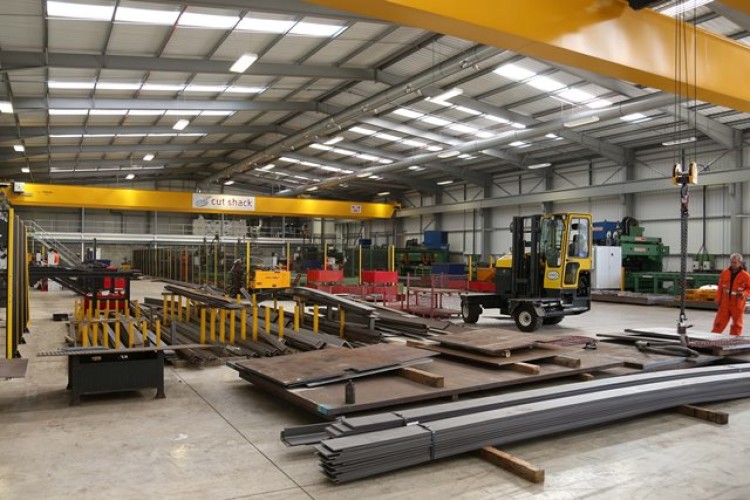 The new plant, called The Cut Shack, is a 45,000 square foot facility on the site of the former Moorgreen Colliery near Nottingham.
Caunton says that the new saw-and-drill line now makes it one of the UK's largest single-site structural steelwork contractors.
Family-owned Caunton Engineering began as a blacksmiths in the village of Caunton, near Newark, 44 years ago. It now turns over £40m a year and has 230 employees.
It supplied steelwork for stadia for the London 2012 Olympics, the new North Stand of Leicester Tiger's stadium and structural steelwork for the Museum of Liverpool.
Managing director Simon Bingham said: "The Cut Shack is the result of more than four years' planning and development and reflects a desire to innovate and change the way we do things which has driven the company's expansion over the last 40 years.
"The Cut Shack has a unique configuration of nine separate processing machines sourced from Germany and the USA, which alone have a combined cost of more than £2.5m. This will allow us to effectively revolutionise our production process, allowing for huge efficiencies and increased flexibility. We have now created a purpose-built plant which reflects the very latest in industry thinking gained from a range of similar operations across the world."

Simon Bingham (pictured below) took over the reins of the company in 2000 from his father David who, with partner Tom Broadberry, founded the business in 1970.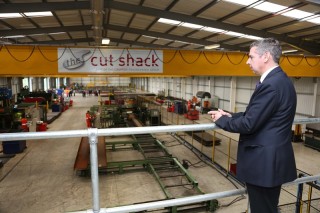 He continued: "It was a brave decision to invest in the project four years ago when we were still suffering from recession - reflecting perhaps more our family-owned aspiration for long-term growth rather than a shareholders desire for a quick profit. But that decision now looks to have paid off."
Mr Bingham predicts that the improved efficiencies created by the new plant will lead to significantly improved turnover, exceeding the 400 tonnes of steelwork the company currently produces each week. He says: "The last few years have seen a dramatic increase in demand for more technical and complex steelwork structures with latest reports indicating that buyers are facing the biggest shortage in subcontractors for 17 years.  
"As architects and developers are becoming more ambitious with their design and scope, so we have to adapt by introducing new thinking and improved processes and efficiencies. The Cut Shack provides us with this firm foundation for future growth, and its integration with the rest of our factory will create one of the largest and most technologically advanced single-site operations to be found anywhere in the UK today."
Got a story? Email news@theconstructionindex.co.uk