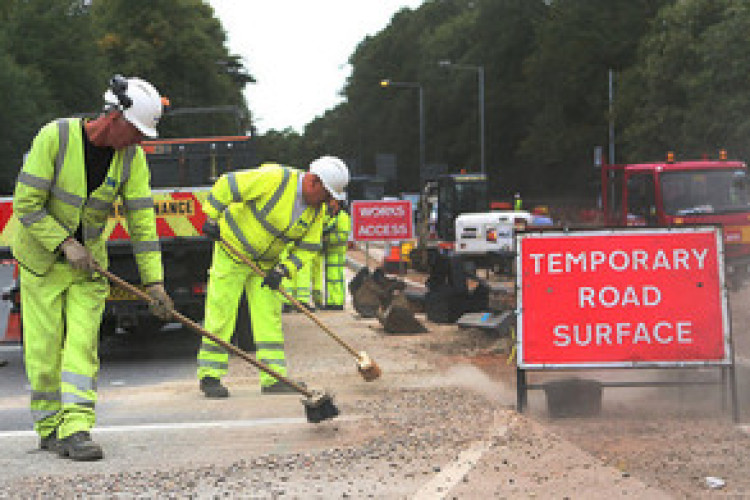 The 31 schemes being awarded funding are across 28 local authorities and include safety repairs, bridge renewal, carriageway and drainage improvements, and street lighting upgrades.
The funding was awarded by the Department for Transport following a bidding process from local authorities and the winners put forward the strongest case.
The Challenge Fund money is part of the £6bn funding for local road maintenance announced in December 2014.
The full list of schemes that have won funding from the first tranche is:
| Local authority | Project name | Scheme description | Asset type | Total DfT (£000s) | Local (£000s) | Total (£000s) |
| --- | --- | --- | --- | --- | --- | --- |
| Bedford Borough Council | Bedford Borough: Street Lighting upgrade | Renewal of the entire street lighting asset owned and maintained by Bedford Borough Council. The scheme will provide new low energy lanterns, replace columns as required and introduce a central management system to control lighting units, making a substantial improvement in the quality of street lighting provision in the area. | Street Lighting | 5,319 | 1,050 | 6,369 |
| Blackpool Borough Council | Blackpool Bridges | The proposed repair/ reconstruction of ten of Blackpool's strategic bridges. | Structures | 5,565 | 5,800 | 11,365 |
| Bradford Metropolitan District Council (Lead Authority)/Kirklees Council | West Yorkshire - Joint Retaining Structures | This proposal will improve the reliability of retaining wall structures within West Yorkshire and Kirklees. | Structures | 5,230 | 1,030 | 6,260 |
| Brighton & Hove City Council | A259 / West Street – Shelter Hall – Highway Structure | Scheme will provide essential reconstruction of a primary highway structure constructed circa 1880. This structure helps support the A259 which carries 36,000 vehicles a day, 30,000 pedestrians a day and the National Cycle Route 2 (2,500 cyclists a day). | Maintenance | 8,915 | 1,699 | 10,614 |
| Bristol City Council | A403 Major Maintenance | The scheme will help extend the life of the existing carriageway, footways, drainage and cycleway on the A403 Corridor from Avonmouth Port to the M48 at Aust to support economic development within the Avonmouth & Severnside Enterprise Area. | Maintenance | 12,627 | 1,403 | 14,030 |
| Cornwall Council | A39 Trispen Renewal Scheme | The scheme provides for a major asset renewal along the 5 mile route removing the need for frequent remedial patching works; delivers improved cycle provision, passive safety features, drainage upgrade and safety led realignment. | Maintenance | 5,220 | 1,100 | 6,320 |
| Darlington Borough Council | Darlington Challenge Fund Tranche 1 Bid | Scheme includes two distinct elements (1) Strengthening of a key bridge and (2) upgrade of street lighting stock to address structural issues with columns and an upgrade to LED lighting. | Package | 5,792 | 1,950 | 6,320 |
| Devon County Council | Lighting the road ahead: Street lighting improvements in Devon | To provide replacement street lighting on all main roads throughout Devon taking advantage of modern innovation in lighting design. | Street Lighting | 10,262 | 2,894 | 13,156 |
| East Riding of Yorkshire Council | Street Lighting Upgrade | The scheme will replace all 9,000 street lighting columns in East Riding aged over 40 years old, and will also upgrade the remaining 19,000 yellow/orange lamps to new LED light systems. | Street Lighting | 6,000 | 9,271 | 15,271 |
| Gloucestershire County Council | Gloucestershire County Council - LED Street Lighting | With 34% council contribution this scheme will support the council's £20m LED invest-to-save project, converting all street lighting to LED utilising a Central Management System (CMS) by March 2019, to maximise energy saving, CO2 reduction and maintenance savings. This includes replacing 6,135 aluminium/ concrete life-expired columns, which are only inspected visually. | Street Lighting | 5,004 | 2,574 | 7,578 |
| Lancashire County Council | Exceptional M65 Motorway Infrastructure Maintenance | Scheme is for an exceptional motorway infrastructure maintenance on the M65 between J10-14 involving the replacement of the central steel crash barriers with concrete barriers that meet current standards. It also involves the replacement of side crash barriers and upgrading the driver information matrix signs. | Maintenance | 5,100 | 1,500 | 6,600 |
| Lancashire County Council | Upgrading of Street Lighting | The scheme involves upgrading 67,000 energy inefficient street lighting lanterns with modern LED equivalents, replacing up to 4,000 lighting columns that have reached the end of their service life and the provision of approximately 150 charging points to encourage a greater uptake of Ultra Low Emission Vehicles (ULEV) in Lancashire. | Street Lighting | 14,800 | 5,000 | 19,800 |
| Leicestershire | Street Lighting Transformation Project | The conversion of all Leicestershire's street lighting to LED lamps (combined with the introduction of a 'Central Management System') and the de-illumination of traffic signs on bollards. | Street Lighting | 5,100 | 20,006 | 25,106 |
| Liverpool City Council | Great Howard Street Bridge, A565 | The proposal is to replace the existing Great Howard Street bridge due to it failing the last structural assessment and ensuring the A565 remains open without a weight limit. . | Structures | 8,523 | 1,185 | 9,708 |
| Manchester City Council | Planned Maintenance Works to the Key Strategic Network - Manchester City Council: Stockport Road (A6), Hyde Road (A57), Broadway (A663), Palatine Rd (B5167), and Alan Turing Way (A6010). | Delivery of planned maintenance works to five key strategic routes to help improve road conditions. | Maintenance | 6,345 | 1,692 | 8,037 |
| Newcastle City Council | Haddricks Mill including Killingworth Road (highway and structural) Maintenance Scheme (HMMS) | The HMMS focuses on an area of highway network that is critical to the growth of Newcastle and its wider functional economic market area (specifically enabling housing growth and access to employment sites). The bid complements existing funded proposals to improve capacity and connectivity in this area. | Maintenance | 13,423 | 4,930 | 18,353 |
| Norfolk County Council | Greater Norwich Area Surface Water Drainage scheme | The scheme upgrades key drainage infrastructure, addressing long standing flooding issues across a wide residential and growth area. The works will complement and support economic growth proposals for north Norwich | Drainage | 9,123 | 1,200 | 10,323 |
| Northumberland County Council | Northumberland Masonry Arch Refurbishment Programme | To refurbish 130 of the masonry arch bridge stock in Northumberland. | Structures | 5,625 | 1,075 | 6,700 |
| Oldham Council | A62 Key Route Network Maintenance Scheme | Planned preventive maintenance on the A62 within Oldham, part of Greater Manchester's Key Route Network, integrating highway surfacing, highways structures and safety schemes ensuring the reduction of delays. | Maintenance | 3,160 | 840 | 4,000 |
| Oxfordshire County Council | Long term, sustainable Improvements to drainage, carriageway and street lighting infrastructure | Scheme will identify the cause of flooding/ drainage problems and improve resilience to water and traffic damage using sustainable techniques. Work will be coordinated with a separate programme of Street lighting column & LED lantern review and replacement | Package | 12,950 | 1,590 | 14,540 |
| Plymouth City Council | Plymouth Carriageway Improvement Programme | Scheme is for an £11 million programme to help maintain and repair Plymouth's local highway network | Maintenance | 8,385 | 2,794 | 11,179 |
| Slough Borough Council | Slough, Reading and Wokingham Street Lighting Upgrade Project | Collaborative project for the modernisation of street lighting across three boroughs. Project includes the installation of 38,651 energy efficient LED lanterns, replacement of 11,323 "at risk" street lighting columns and further implementation of Central Management Systems, to remotely manage street lighting levels to improve performance and efficiency. | Street Lighting | 19,328 | 8,284 | 27,612 |
| South Gloucestershire Council | A4174 Major Maintenance and Enhancement | The scheme focuses on the maintenance of the A4174 Avon Ring Road between the A38 at Filton and the A4 at Hicks Gate. The scheme will involve major structural maintenance of three significant structures, extending the life of the existing carriageway, as well as providing footways and cycleway maintenance and enhancements | Cycling and Footway | 13,950 | 1,550 | 15,500 |
| Southend-on-Sea Borough Council | Southend Street Lighting Upgrade – Small Project Bid | All street lighting lanterns and illuminated street furniture in Southend will be replaced with new LEDs. Scheme also includes the replacement of some cast iron and concrete lighting columns. The scheme will also install a Central Management System for controlling the lights. | Street Lighting | 5,090 | 8,368 | 13,458 |
| Telford & Wrekin Council | Telford Town Centre Connectivity Package | The scheme will upgrade an existing pedestrian footbridge, which provides essential connections between Telford Central Station and Telford Town Centre, and maintain and upgrade a key part of the town centre strategic highway network. This project supports the creation of jobs and housing and directly unlocks land for development. | Structures | 10,335 | 1,968 | 12,303 |
| West Berkshire Council | A339 Newbury, Delivering a High Quality Corridor. | Scheme is to help improve the long term condition of the A339 which are deemed critical to Newbury's economic and housing growth. | Maintenance | 5,610 | 5,100 | 10,710 |
| West Berkshire Council | LED Street Lighting - Invest to Save | Scheme will replace approximately 10,850 street lighting lanterns with dimmable LED energy efficient lanterns. This will also include replacing approximately 3,431 columns with new aluminium columns suitable for LED lanterns. | Street Lighting | 5,069 | 2,172 | 7,241 |
| West Midlands Integrated Transport Authority | West Midlands Classified Network Renewal Project | This scheme will contribute to a £92 million, six year programme to renew 211 miles of the West Midlands classified road network in urgent need of repair. This investment will help deliver steady state condition achieving significant lifecycle/planning savings. Scheme will also help support regeneration, economic growth and reduce environmental and business costs arising from poor highway condition. | Maintenance | 39,931 | 4,935 | 44,866 |
| Wigan Council | Golborne Railway Bridge and Morleys Canal Bridge | The scheme upgrades two major bridges including deck re-waterproofing, replacement of bearings, renewing of deck joints and renewing of steelwork corrosion protection. | Structures | 988 | 263 | 1,250 |
| Wigan Council | Key Route Network (KRN) Carriageway Rehabilitation Programme | The proposed scheme is to arrest the surface deterioration of 34 sections of carriageway across Wigan Councils KRN, linking key transport corridors across the Greater Manchester conurbation. | Maintenance | 2,372 | 631 | 3,003 |
| Wirral Council | Wirral Dock Bridges Replacement | Replacement of two bridges with associated improved facilities for pedestrians and cyclists. An existing steel truss opening bridge will be replaced with a new steel box girder bascule bridge. An existing fixed truss bridge will be replaced with a new concrete deck bridge. | Structures | 6,408 | 712 | 7,120 |
Got a story? Email news@theconstructionindex.co.uk