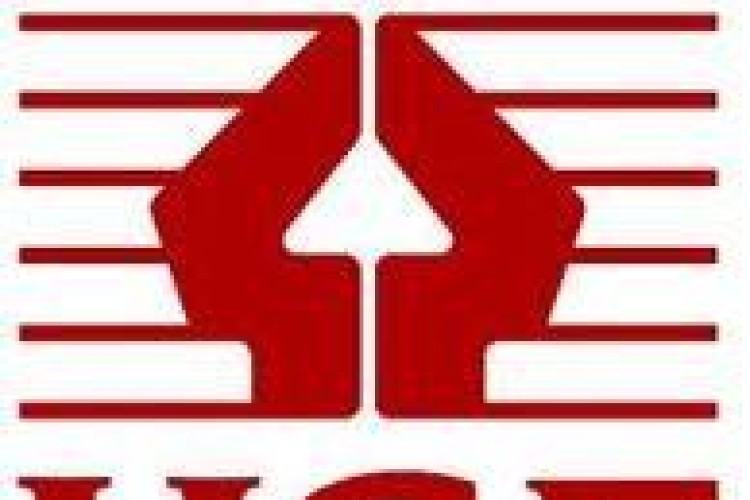 Bradley White suffered several broken bones and was in hospital for three weeks.
The 27-year-old had been employed by Michael Davies to replace the roof on a large industrial unit at W&S Recycling on Nuffield Industrial Estate in Poole, which is owned and occupied by Geoff Thompson.
Mr Davies and Mr Thompson were both prosecuted by the Health & Safety Executive (HSE) after an investigation found they had failed to make sure the work could be carried out safely.
Bournemouth Magistrates' Court heard that Mr White had been walking on the fragile cement roof on 27 March 2012 when his foot went through one of the fragile sheets. He landed on the concrete floor six metres below.
HSE's investigation found there was no edge protection, safety netting or any other measure in place at the site to stop Mr White falling or to prevent him from being injured.
Michael Davies, of Kingston Road in Poole, pleaded guilty to breaching Section 3 of the Health and Safety at Work etc. Act 1974 by failing to ensure workers were not put a risk. He was fined £2,500 and ordered to pay costs of £2,000.

Geoff Thompson, who trades as W&S Recycling, pleaded guilty to breaching Regulation 9 of the Construction Design and Management Regulations 2007 by failing to ensure the arrangements made for managing the project were suitable. Mr Thompson, of Nuffield Road in Poole, was fined £1,500 and ordered to pay costs of £5,000.
Speaking after the hearing, HSE inspector James Powell said: "The dangers of working at height are well known, yet workers undertaking roof work and building maintenance sometimes die or are permanently disabled because of the poor safety standards and lack of safeguards that still exist among some contractors.
"It is essential that the hazards associated with working at height are recognised and understood by the client who commissions the work. The client must make sure the individual or company they employ is competent to carry out roof work and is aware of the hazards and precautions that need to be taken for the work to be carried out safely.
"Geoff Thompson did not properly asses Mr Davies' arrangements for health and safety and determine whether he would be able to do the work safely and without risk.
"This prosecution should serve as a reminder to all involved in construction projects, including clients, that they have a legal duty to ensure work at height is properly planned and robust safety precautions are put in place."
Got a story? Email news@theconstructionindex.co.uk