Data for April 2016 signalled a further loss of momentum across the UK construction sector, with new order volumes stagnating and optimism starting to dampen.
At 52.0 in April, the seasonally adjusted Markit/CIPS UK construction purchasing managers' index (PMI) remained above the 50.0 no-change threshold, thus marking three years of sustained output growth across the construction sector.
However, the latest reading was down from 54.2 in March and its lowest reading since mid-2013.
Commercial building was the strongest performing broad category of activity in April, although the latest upturn was the slowest since July 2013. Residential construction growth rebounded only slightly from March's 38-month low, while civil engineering activity expanded at its weakest pace so far in 2016.
The overall slowdown in construction output growth largely reflected stagnating new business volumes in April. Moreover, the latest survey signalled the weakest momentum for exactly three years.
Construction companies cited a number of factors weighing on client spending, including uncertainty about the economic outlook and a general unwillingness to commit to new projects.
Construction firms signalled a renewed decline in confidence about the year-ahead business outlook in April, thereby resuming the general downward trend seen since June 2015. The latest reading pointed to the weakest degree of positive sentiment for almost three years, which survey respondents mainly linked to stagnating new business volumes and a lack of new invitations to tender.
Staffing levels continued to increase across the construction sector during April. Job creation has been recorded in each month since June 2013, which represents the longest period of sustained employment for around a decade. However, the latest increase in payroll numbers was only modest and some firms commented on more cautious hiring policies in response to softer demand patterns. This contributed to a rise in sub-contractor usage for the first time in three months during April.
Supply chain pressures eased again in April, as highlighted by the least marked lengthening of vendor delivery times since November 2010. Some firms commented on softer demand for raw materials. Reflecting this, latest data pointed to the weakest increase in input buying for almost three years. However, cost inflation picked up sharply and was the fastest recorded since July 2015.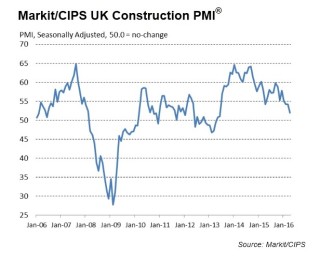 Markit senior economist Tim Moore said: "UK construction firms reported their worst month for almost three years in April, meaning that the first quarter slowdown is unlikely to prove temporary.
"Stalling new order volumes not only set the scene for further weakness ahead, but are already weighing on staff hiring and input buying across the construction sector.
"Softer growth forecasts for the UK economy alongside uncertainty ahead of the EU referendum appear to have provided reasons for clients to delay major spending decisions until the fog has lifted.
"An additional factor dragging on construction sector performance is the lack of momentum in residential building. April's survey highlighted one of the weakest rises in housing activity since early-2013, suggesting that greater caution in this sub-sector is adding to the sluggish growth conditions seen across the wider construction industry."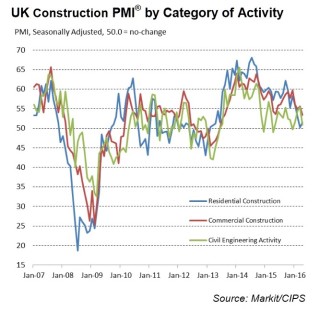 David Noble, chief executive of the Chartered Institute of Procurement & Supply, said: "Although UK construction grew marginally in April, clouds of uncertainty are hovering overhead, depressing the industry's outlook. Business activity expanded at its weakest pace since June 2013, clearly pointing to a loss of momentum in the sector.
"Fears over weaker UK and global economic growth dealt a blow to confidence in the construction sector, leading to delays in new spending commitments.
The prospect of the EU referendum and its outcome in June are likely to add to uncertainty too, with many construction firms preferring to wait and see what happens before making any decisions.
"Construction companies adopted a more cautious approach to purchasing and hiring, leading to a rise in sub-contractor usage to tide them over until the outlook becomes clearer. The slowdown in new order growth in April suggests that though spring may be in the air, sunnier times may still be a way off for the construction sector, at least for the time being.
Got a story? Email news@theconstructionindex.co.uk