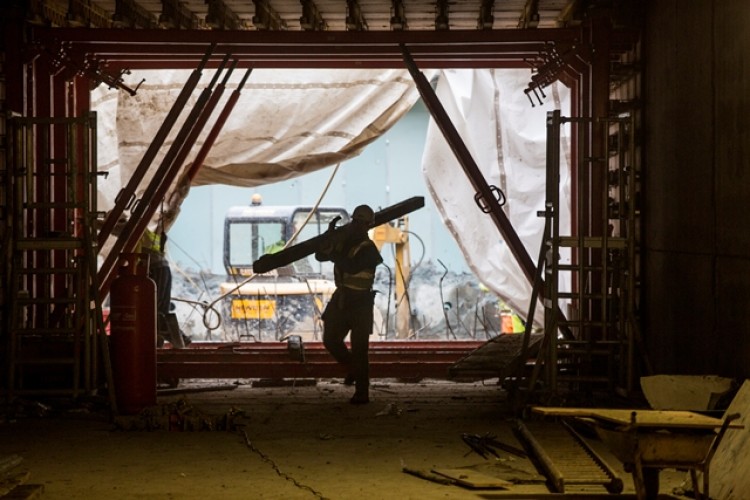 Repair and maintenance provided the main downward pressure on construction output, shrinking month-on-month by 1.8%.
But despite output shrinking in each of the first three months of the year, the quarter as a whole was still better than the last quarter of 2016.
According to data from the Office for National Statistics, Q1 2017 was up 0.2% on Q4 2016.
According to the ONS, this healthier rolling three-month figure provides "a more comprehensive picture of the underlying trends within the construction industry".
December 2016 was a one-off historically high month – a statistical blip – that the next three months did not keep up with.
New housing experienced strong growth in March, increasing month-on-month by 3.8%; month-on-year by 5.4%; and quarter-on-quarter by 0.2%.

And in comparison with the same period in 2016, construction output grew by 2.4% in March 2017, representing the 12th consecutive period of year-on-year growth.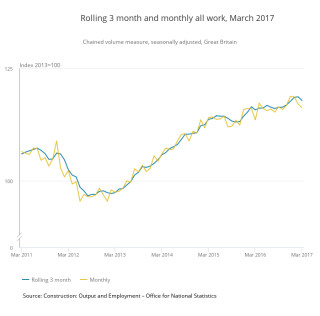 Michael Thirkettle, chief executive of construction consultant McBains Cooper, said: "After a period of relative stability following Brexit, recent evidence has pointed towards a slowdown in construction as concern grows about what EU withdrawal will mean for the construction industry.  These latest figures bear out such concerns.
"Political parties of all stripes are now set to outline ambitious manifesto targets to increase house-building but these will be hollow promises unless they are backed by concerted action to address skills shortages and increase access to finance, meaning no end in sight for the housing crisis.
"Whoever wins on 8th June, Brexit will occupy much of the government's focus over the next two years, and consequently there will be continuing caution from the private and corporate sectors in construction. Yet the industry needs the opposite – some bold moves and big investments – if it is to produce sustained growth any time soon."     
Got a story? Email news@theconstructionindex.co.uk