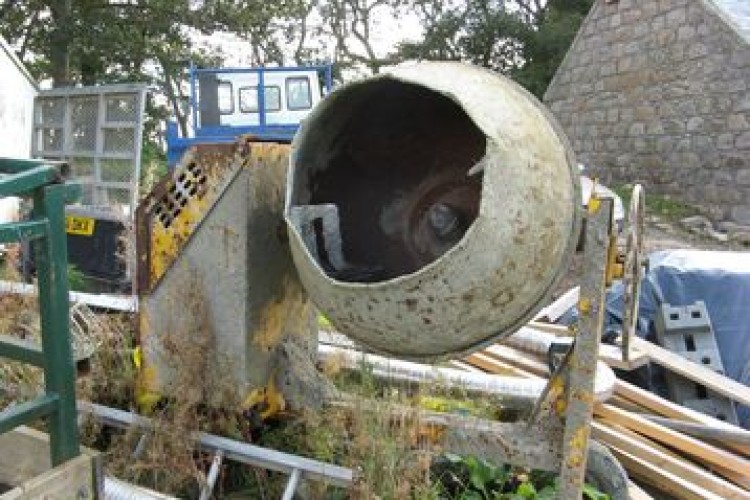 Not since the fourth quarter of 1998 has construction output been as low as it was in the first quarter of 2013.
At 2005 based prices the seasonally adjusted estimated total volume of construction output in Q1 2013 was 2.4% lower than Q4 2012, according to the ONS. This fall follows a short-lived return to growth (0.6%) in the previous quarter.
Private-commercial other new work, which accounts for approximately 22% of total construction output, is now 38% below its peak in 2008 and at its lowest level since Q4 1997. Other new work excludes the housing and infrastructure sectors but includes construction of factories, warehouses, schools and offices etc.
The quarter on quarter fall into Q1 2013 was dominated by the decline in all new work which fell 3.2% (£500m). There were falls in almost all sectors, with the exception of private housing repair and maintenance which showed a modest increase of 0.4%.
A year-on-year comparison of Q1 2013 against Q1 2012 shows construction output shrinking 6.5%. Over this period, there were falls in both the main sectors where all new work decreased 7.8% (£1.3bn) to £15bn and repair & maintenance decreased 4.1% (£360m) to £8.6bn – mainly due to a 6.9% fall in the repair and maintenance of housing.Within the all new work sector, public other new work decreased 19.2%, (a fall of £500m) while private-commercial other new work decreased 7.8%.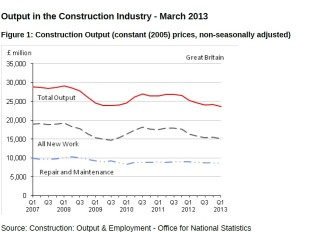 Simon Rawlinson, head of strategic research at consultant EC Harris, commented: "Confirmation of another weak quarter for construction comes as little surprise given the poor weather and plentiful negative data.  The contrast with last week's better than expected GDP data only serves to emphasise the continuing plight of the industry and the disconnect from any emerging recovery seen in the services sector.  Recent profit warnings from Balfour Beatty and Morgan Sindall are a further indication of the impact the continuing downturn on the health of the industry.
"Activity fell in all new build sectors over the quarter.  This is not a good sign, but much of this decline will have been weather related, and the monthly data from March shows a substantial rebound in private housing, infrastructure and commercial as contractors sought to make up for lost time.
"Improved new orders data from the end of 2012 suggested that activity levels may start to edge up – albeit at a very modest clip.  There is little sign of acceleration yet, but given encouraging sounds from the house builders and low levels of investment elsewhere in the UK economy, residential construction may well turn out to be the brightest of a set of otherwise dull sectors in during 2013."
Got a story? Email news@theconstructionindex.co.uk