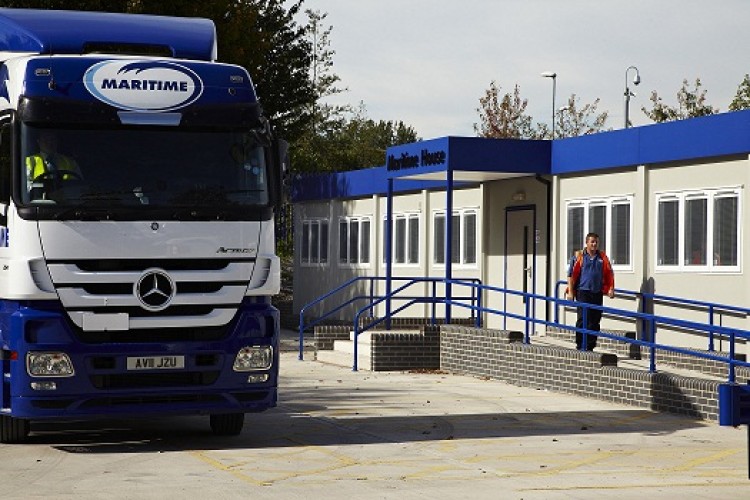 Foremans has provided two modular buildings at Maritime's transport hubs in Leeds and Southampton, and a third project to relocate and extend an existing building is in progress at Trafford Park in Manchester.
Maritime Transport specialises in delivering road-based container transport services to global shipping lines, freight forwarders and logistics companies in the UK.  It operates a fleet of nearly 1,000 trucks and has over 1,000 staff across a network of port and inland offices throughout the UK.
Foremans has developed a standardised building solution with Maritime for its depot facilities, which can be replicated quickly and easily on different sites.  The building comprises air conditioned open plan office work space, a meeting room, high specification toilets and larger showers with enclosures for privacy, and a dedicated rest room where drivers can relax and eat – key requirements for Maritime. 
Commenting on Foremans' building solutions, Derek Daly, Fleet Director at Maritime Transport, said, "The structure of Foremans' buildings is the Portakabin modular system – a market leading building design.  This combined with Foremans' capabilities for refurbishment and re-fitting means we can benefit from accommodation which is genuinely as good as new, is cost-effective, fast to install and tailored to our specific business requirements."

"Providing a high quality working environment for our staff, and particularly for our drivers who work long hours, is very important to us and for the ongoing development and expansion of the business.  We believe we offer our drivers the best facilities in our sector. We are very pleased with the level of service the Foremans team has provided to Maritime and both buildings are performing well and have been well received by our office staff and our drivers."                                                                                                        
Foremans' buildings have a wide range of applications in the transport and logistics sectors, including reception areas, open plan offices, meeting suites, depot buildings, staff welfare facilities, and security.                      
Foremans is the UK's leading quality pre-owned modular building supplier, and is part of the Shepherd Group, one of Europe's largest privately-owned construction companies.  It holds the biggest selection of Portakabin-manufactured buildings available for refurbishment and reconfiguring in the UK, from its 82,000sqm production facilities in East Yorkshire and Hemel Hempstead. 
Got a story? Email news@theconstructionindex.co.uk