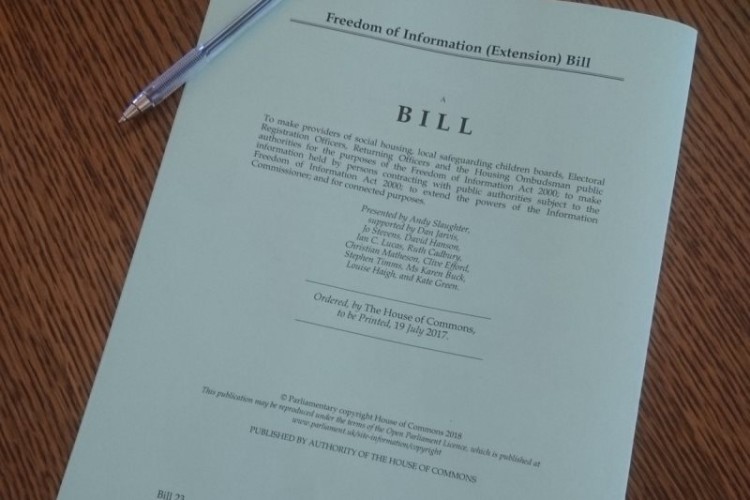 Hammersmith MP Andy Slaughter has published a private members' bill to extend the Freedom of Information (FOI) Act 2000 to contractors working for public sector clients.
Requests for information would still be made to the public authority concerned, but any information held by the contractor as well as by the client authority, woul dbe subject to exposure. Exemptions would protect only information whose disclosure was genuinely harmful, Mr Slaughter says.
The proposed reform would also bring housing associations into scope of FOI as public bodies. Their current exemption has been exposed by the quest for information following the 2017 Grenfell Tower fire.
The bill is scheduled for its second reading debate in the House of Commons on Friday 16th June.
Writing in Parliament's magazine, The House, Andy Slaughter says: "The devastating collapse of Carillion has highlighted how dependent we have become on contractors for public services. Over £250bn, a third of public spending, now goes to commercial or voluntary sector bodies for services. Some of these contracts have proved highly controversial. Both Serco and G4S have been forced to repay millions of pounds for overcharging for the electronic tagging of offenders, some of whom had actually died or were back in prison.
"A vast range of services are contracted out, including meals on wheels, care visits for the elderly, NHS diagnostic services, school inspections, leisure centre management, parking enforcement, court security and the running of immigration detention centres and prisons.

"The introduction of commercial practices has inevitably led to more secrecy. Contractors claim that openness threatens their edge over their rivals. Public authorities say it jeopardises their efforts to get the best deal when a new contract comes up. But ultimately such claims have to be substantiated under the Freedom of Information (FOI) Act. Or do they?
"The Act suffers from a major loophole. Information which the contractors themselves hold about these services may not be covered at all. If the contract doesn't give the authority the right to obtain that information from the contractor, the public has no right to it from the authority. The transfer of a function from the authority's staff to the contractor's, may signal the decimation of the public's right to know under FOI."
He continues: "This loophole has prevented the public finding out how often complaints about court security staff have been made and how many of them have been convicted of offences. The staff are employed by G4S but the contract does not entitle the Ministry of Justice to the information – so the public can't get it either.
"A report on fire safety at the CT scanner room of an NHS hospital was found to be outside the Act's scope because it was held by a company providing services to the hospital under a lease and the lease did not permit the trust to see the report.
"My private member's Freedom of Information (Extension) Bill would close this loophole."
Got a story? Email news@theconstructionindex.co.uk