The contractor is familiar with the project having previously undertaken urgent works on the Dreamland Cinema in 2012.
The work will include the first stage in the refurbishment of the lower level of the main cinema building to facilitate the opening of the Park. The contract will also enable the stabilisation and future protection of the Grade II Listed menagerie cages.
Dreamland is considered to be the oldest-surviving amusement park in Great Britain. It was closed in 2006 and the site was earmarked for a housing development. After a six-year campaign the save the attraction as part of England's seaside heritage, the newly formed Dreamland Trust secured £12m public funding to restore Dreamland, including its Grade II*-listed Scenic Railway, Grade II*-listed cinema complex and Grade II-listed menagerie cages.
Thanet District Council compulsorily-purchased the 16-acre site in September 2013 and work has now begun restoring the Scenic Railway and some of the historic rides.
Phase one of the refurbished amusement park is scheduled to re-open in 2015.


Coombs contracts manager Nick Bushell, who lives in Margate, said: "This is an exciting opportunity for Coombs following our involvement with the urgent works to the Cinema building. We are thrilled to be working in partnership with Thanet District Council, The Dreamland Trust and Hemingway Design, and look forward to the reopening of Dreamland and the further regeneration of Thanet."
Thanet District Council leader Iris Johnston added: "This is fantastic news and I am delighted to see the refurbishment of the cinema building progress. I am delighted that the listed menagerie cages, which are of such historical importance, will also benefit from specialist attention. The whole Dreamland project is one that has captured the imagination not only in Thanet but also nationally and it's heartening to see this progress positively."
Pictured below is Dreamland's Scenic Railway when it was first built in 1920. It suffered severe fire dmagae in 2008 from an arson attack but is now being re-built.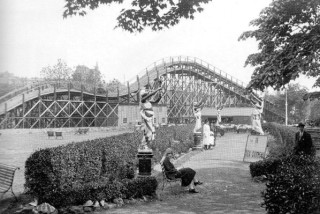 Got a story? Email news@theconstructionindex.co.uk