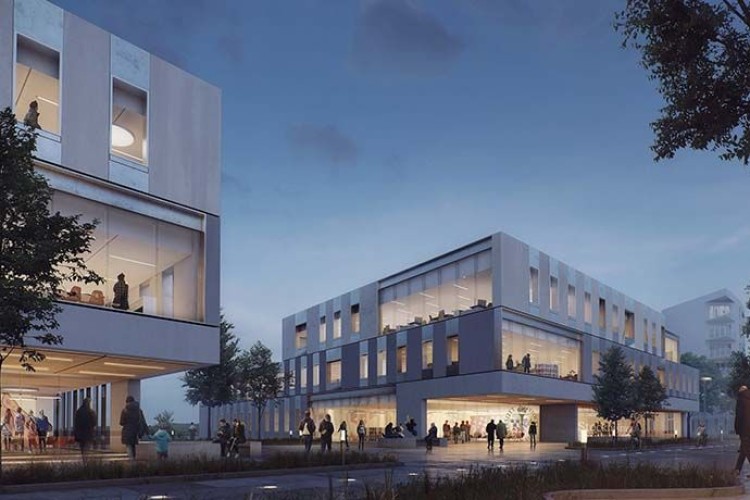 The ​​Albano Campus in Stockholm will be a scientific hub for more than 15,000 students and researchers. The objective is to create an attractive educational and research environment that will connect KTH Royal Institute of Technology and Stockholm University. The buildings will be integrated into the surrounding park landscape, with green roofs and large green terraces.
Akademiska Hus, the property developer of the Albano Campus, has commissioned Cowi to take on a leading role within a range of disciplines. Cowi's assignment includes all the system management planning for the construction work, and the detailed planning for the foundations and basements of three of the four buildings. Cowi is also in charge of the 'geotechnology' in the planning of the buildings, streets and conduits. "The assignment is challenging in terms of the complex geometry of the buildings and the heavy constructions that need to freely span large lecture halls and teaching rooms," said Håkan Adelwald, head of the building and real estate division at Cowi.
A total of 150,000m2 of university and higher education premises will be built in Albano. In addition to becoming a learning environment with educational and research facilities, Albano will also offer 1,000 undergraduate and graduate student housing units as well as premises for commercial services such as restaurants and cafes.

"It's great to be involved in developing the Albano campus, transforming the area from the rundown industrial area it is today into a vibrant educational environment with many green spaces," said Johan Ström, project manager at Cowi.
The architects for the university premises are BSK Arkitekter and Christensen & Co Arkitekter.
The campus is scheduled to be ready for occupancy in 2020.
Got a story? Email news@theconstructionindex.co.uk