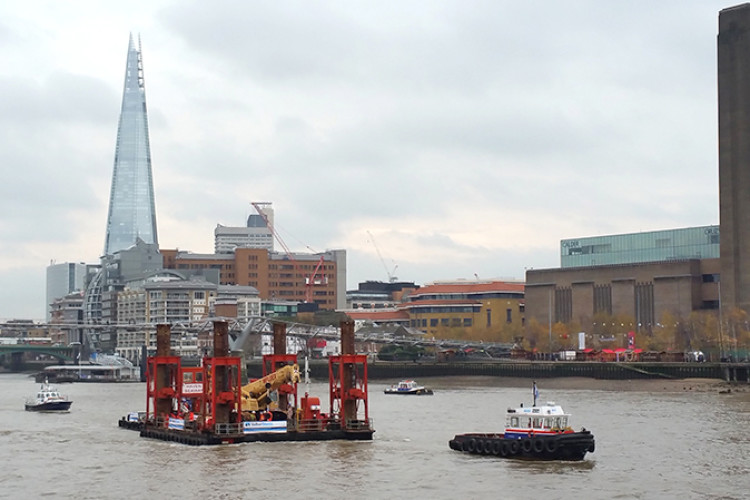 The jack-up barge was pushed into position by two boats near Blackfriars Bridge on Thursday 3rd December. Sitting on the barge is a telescopic-boom crawler crane supplied by specialist hire firm Weldex.
VolkerStevin is building the pier for the Thames Clipper riverbus service users. The Clipper stop is being relocated to the eastern side of Blackfriars Railway Bridge as part of enabling works and is due to come into use later next year.
VolkerStevin is also constructing a new staircase and lift connecting the Embankment and Blackfriars Bridge.

Andy Alder, central project delivery manager for client organisation Tideway, said: "Getting the barge into place was no mean feat. The 20-metre wide barge had to be carefully threaded under seven bridges and through the traffic on one of the busiest working rivers in the world. Alongside the man-made challenges, the crane also needed perfect tidal water levels and good weather before the movement could go ahead."
He said: "This crane will give us the capability that we need to prepare the Blackfriars site for our vital work to upgrade London's sewerage system. This work is taking place directly next to one of Sir Joseph Bazalgette's famous interceptor sewers in the embankment, so it's a fitting place to start our work."
Every year, tens of millions of tonnes of sewage overflows into the River Thames from combined sewage overflow (CSO) points along the river. The 25km Thames Tideway Tunnel will intercept sewage from the 34 most polluting CSOs, including the Fleet sewer at Blackfriars, before transferring it to Beckton in east London for treatment.
Got a story? Email news@theconstructionindex.co.uk