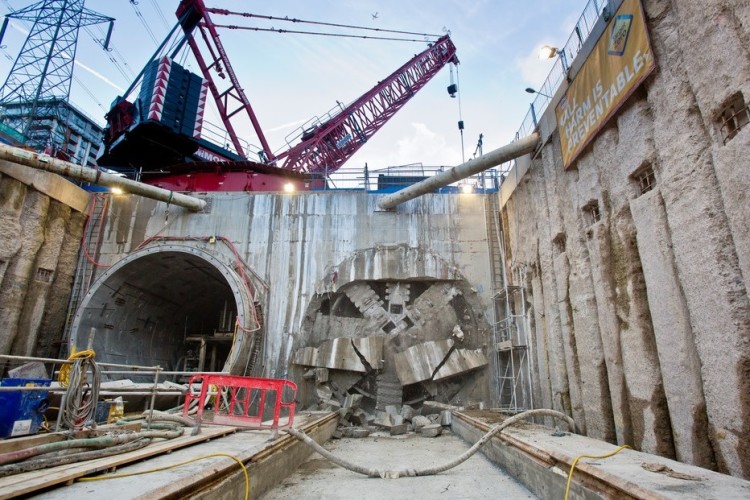 This means that Crossrail's train tunnels in Docklands and southeast London are now structurally complete. Crossrail's eastern tunnels are built by Dragados Sisk Joint Venture.
At the same time, TBM Elizabeth has started her final push west from Whitechapel that will see her and sister machine Victoria complete Crossrail's train tunnels at Farringdon next year.
TBM Ellie had one of Crossrail's shortest but most complex drives, 900m from Limmo Peninsula, near Canning Town, to Victoria Dock Portal. She had to navigate between the Docklands Light Railway, Jubilee line and utilities, all in close proximity to the River Thames and River Lea.
It was Ellie's second drive, having already completed a 2.7km stretch from Pudding Mill Lane to Stepney Green.

Ellie will now be dismantled and returned to manufacturer Herrenknecht, with the parts recycled for future projects.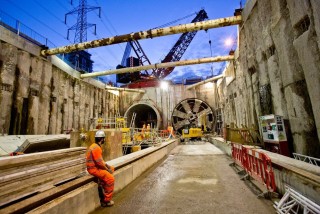 Crossrail programme director Simon Wright said: "The end is in sight for Crossrail's tunnelling marathon. Having successfully delivered all bored tunnels west of Farringdon and east of Whitechapel, we now begin the final push to complete tunnelling at Farringdon next year. The next challenge is to fit out the tunnels and stations with systems to run Crossrail trains through central London in 2018."
TBM Elizabeth is 60% through Crossrail's longest drive, a distance of 8.3km from Limmo to Farringdon. She has already passed Canary Wharf Crossrail station and Stepney Green cavern, before waiting in Whitechapel ahead of the completion of a shaft beneath Durward Street. The drive to Farringdon will reach the deepest point on the Crossrail route, approximately 40m beneath street level near the Barbican in the City of London.
Got a story? Email news@theconstructionindex.co.uk