The three firms have together delivered the engineering, landscaping, architecture and interpretive designs for the 420ha Oman Botanic Garden.
The Oman Botanic Garden is located 35km from Muscat, in the foothills of the Al Hajar Mountains. The site chosen for the project is one of only a few locations in the world where the ancient sea bed is still visible after tectonic activity elevated the bed to 100m above sea level. Arup and Grimshaw have worked with the existing natural ridges and ravines that traverse the site to design the buildings and walkways, within the sundulating land.
The idea is that visitors will experience the entire flora of the Sultanate of Oman in just a few hours, through eight defined habitats that enable visitors to travel around the wadis, mountains and deserts of Oman. The landscaped setting will display only native species, many of which cannot be found anywhere else in the world.
Two of the more sensitive habitats are enclosed within separate biomes to mimic the natural temperature and humidity of the external environments.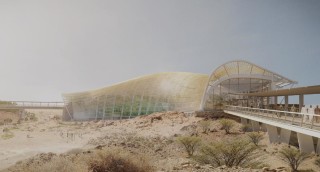 The Northern Biome is a sinuous glass enclosure that re-creates the varied habitats of the Northern Mountains, including their ancient terraces. The Southern Biome and its shimmering undulating glass form will enclose the habitats found in the Dhofar region, where visitors will be immersed forest 'setting.
The buildings, along with the garden site, have been designed to achieve the globally recognised sustainable standard, LEED Platinum. Arup has developed a strategy for the irrigation and water features that involves sustainable sourcing, with not drop wasted.
"At Arup we have enjoyed the many unique challenges presented by the Oman Botanic Garden; from designing natural and authentic landscapes to recreating the cool mists of the Khareef," said  associate director Ed Clarke. "More than 700 of our multi-disciplinary engineers and specialist designers were engaged to explore and find solutions that would befit such an ambitious and creative brief. The Oman Botanic Garden must surely be one of the most marvellous projects in the world."
Grimshaw partner Keith Brewis added: "The Oman Botanic Garden is an astonishing project with many layers of interwoven cultural and environmental significance. Its scale and diversity is truly world-leading, and we are honoured to work as the architects for a project that has the conservation of bio-diversity as a core design driver."
Got a story? Email news@theconstructionindex.co.uk