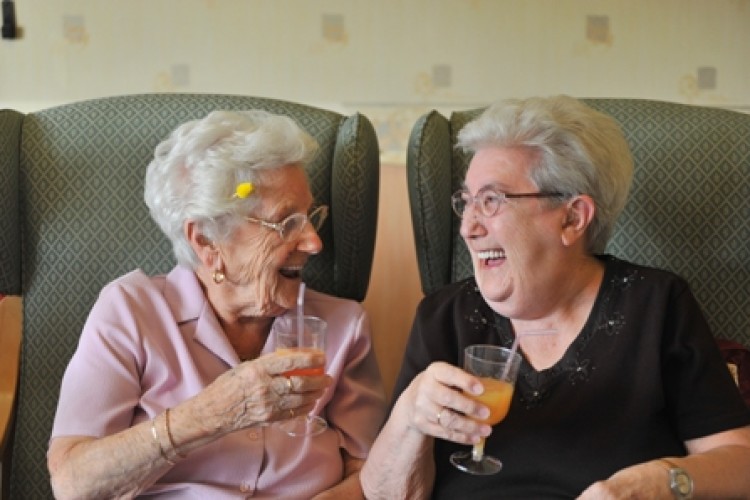 That's the conclusion of a study by the NHBC Foundation that finds residents of retirement housing are broadly satisfied but there's not enough specialist property of this kind being built.
It is expected that around 6.6 million people living in the UK will be 75 or older by 2022.
The NHBC Foundation report found that around one million elderly people say they would consider moving into retirement housing – but only 128,000 homes designed for their needs are estimated to have been built for private sale.
Around nine out of 10 elderly people say they love their experience of living in retirement housing or enjoy it most of the time, according to a new report by the NHBC Foundation. The report found that there is high demand in the UK for more quality retirement housing with residents citing companionship and community spirit as the biggest benefits of living in a retirement development.
It found that building more retirement properties would bring significant benefits for the elderly by allowing them to live independently for longer while freeing up homes for younger families.
The report also identified that rates of home ownership are high for this age group and there is evidence of a willingness to pay a premium to gain the benefits of good quality retirement living. However, residents participating in the research commented on a lack of choice of suitable properties that appealed to them.
Downsizing and a desire to reduce home maintenance were the key drivers for elderly people to move. 63% of elderly people surveyed said they were looking to downsize and 59% said they wanted to be in a 'safe and secure' environment. Other important factors were being close to family and having access to support services.
The report Retirement housing – residents' experiences examines whether current retirement housing is meeting the needs of residents and provides recommendations for house-builders and developers for future improvements.
Among its recommendations, it says:
elderly people need help with visualising the space if buying off plan
car parking availability needs to be improved, especially for visitors
developers need to give more consideration to the suitability of design and layouts – particularly kitchens and bathrooms
builders need to carry out closer inspection to ensure high levels of quality and minimal defects.
The research centred on six retirement developments with roughly 400 homes in total. A total of 284 residents completed questionnaires and focus groups were carried out with a fifth of the residents.

NHBC research & innovation manager Neil Smith said: "Our research found that there is a high demand for more retirement homes in the UK. Many people are keen to downsize from larger homes to retirement properties, but there is a lack of suitable options.
"There is no doubt that retirement houses bring huge benefits to society by allowing elderly people to live independently for longer within a supportive community of like-minded people.
"Living in retirement housing frees elderly people from the burdens of maintaining a larger home and garden. In addition, it brings wider benefits to society such as freeing up larger homes for younger families and releasing capital.
"The report finds that 9 out of 10 residents have a positive experience of living in a retirement home. It also highlights some areas for improvement and the importance of additional support services being made available, such as cleaning and personal care."
Industry response
Developer McCarthy & Stone specialises in building flats and houses for retired people. It believes that the blame for the shortage of suitable housing tailord to the needs of older people lies with the government, not developers. 
McCarthy & Stone land & planning director Gary Day said: "We welcome the NHBC Foundation's report, which reinforces our view of the increasing demand for retirement housing and highlights the growing attraction of retirement developments for people in later life. According to the report, around one million older people say they would consider moving into retirement housing. Our own research shows that a third of homeowners aged 55+ are considering or expect to consider downsizing, motivating by a range of measures such as lower maintenance, equity release or children leaving home. This totals nearly five million homeowners.
"Despite this, not enough is being done to cater for this burgeoning market. While the government is focused on increasing supply for younger people, there is a chronic under-supply of purpose-built retirement housing of the type that we provide. With the UK's rapidly ageing population, the housing stock is woefully unprepared for this demographic shift.
"The Foundation's report also stresses the importance of retirement development in building companionship and community spirit. According to a report by Demos undertaken with our support, over a million older people always or often feel lonely, with London the loneliest place for over 55s. However, 85% of those surveyed in McCarthy & Stone's developments say there is a good sense of community.
"We cannot go on ignoring the importance of retirement housing to the UK. It would not only tackle social isolation and loneliness, but also significantly contribute to solving the UK's housing crisis. The government has shown, through its Help-to-Buy scheme and other initiatives aimed at first time buyers, that it can drive market supply. So we urge government and all others with an interest in the wellbeing of older people to work together to help increase the housing choices for people in later life."
Got a story? Email news@theconstructionindex.co.uk