No doubt 2010 was not the ideal time to take over a struggling aggregates business. Construction was deep in recession, commodities prices were plunging, and economic forecasts were bleak.
But this was the year that Simon Vivian and Peter Tom led a reverse takeover of Ennstone. The once-proud plc had fallen on hard times: it was weighed down by £200m of debt; its US subsidiary was in deep trouble; it had been in pre-pack administration since early 2009.
The two men, both veterans of the construction and aggregates sector, had been looking for acquisition opportunities for a while. Simon Vivian was the former CEO of Mowlem; before that, he had been CEO of Hanson's European Building Materials division. Peter Tom had worked in aggregates for half a century. As chief executive of Bardon Group, he led mergers with Evered and later Camas, which led to the creation of Aggregate Industries plc in 1997. They had set up an AIM-listed company, Marwyn Materials (backed by investor Marwyn) in 2008 with £13m of seedcorn capital.
"It was around this time that everything was starting to go wrong [in the sector]" remembers Vivian. "We were entering the recession and things were getting very difficult for materials companies. We looked at a few interesting opportunities, but nothing really broke for us until mid-2009."
After intense negotiations, Vivian and Tom agreed to buy Ennstone's UK operations, raising £50m from investors and taking on £160m of debt. The group's US subsidiary filed for bankruptcy and the Polish business was sold to Lafarge.
Walking into the new company, now called Breedon Aggregates, cannot have been easy for Vivian and Tom, who had become the new group chief executive and chairman respectively.
Breedon's 1,000 staff had watched the share price crash from 35p to 0.3p. Many had lost substantial savings when the company's share buying schemes were closed.
"They had had several managing directors in a very short space of time, so there was no continuity at the top of the business," says Vivian. "There wasn't much direction or leadership. You could see that as soon as you came in."
The effect on operations was both visible and alarming: staff were demotivated; productivity was poor; the management information systems were ineffective; the haulage operations were inefficient and the safety culture needed a rigorous overhaul. "The Health and Safety Executive served two prohibition notices on our quarries during our first week," Vivian remembers.
It was clear that a dramatic turnaround was needed in all parts of the business. Incredibly, through a wholesale overhaul of operations and culture, this has been achieved in a very short space of time.
The group's revenues have been growing, even in the darkest days of the recession. Last year they increased by nearly 30% to £224.5m, and underlying profit before tax increased by 121.4% to £12.4m.
This year, Breedon won the Best Construction and Materials plc category in the Stock Market Awards run by Shares magazine. Not bad for a company that had been written off as a basket case by shareholders less than five years ago.
So how did they do it? Safety was one of the first areas to be tackled. "When we arrived in 2010 there were some very major issues," Vivian says. "You can't change a safety culture quickly. There had been some pretty serious injuries. One of our proudest moments is that we've managed to put that right."
Lost-time accident frequency rates were halved in the first year, and halved again in the second year. Last year they were reduced by 42%.
"We've significantly reduced the incidence and severity of accidents. We've made enormous progress, but there's still a lot of work to do," Vivian says.
A change in management style has been a major contributing factor. He and other members of the senior team frequently visit locations to talk about safety.
"We try to get the message out, backed by training. We're also educating people. When we arrived, there was very little reporting of near-misses. Now employees understand that they have to record them so that we can investigate the root causes of accidents." Safety strategy is a microcosm of the way that Breedon operates as whole: management takes place as much at the quarries or the concrete and asphalt plants as at head office. "There are only five people in head office including Peter and myself," says Vivian,
"Compared to our competitors, we probably have more people who are out in the field. We want our managers to be looking after customers and making sure the quarries and plants are working properly, rather than sitting in head office, potentially blocking what needs to be done."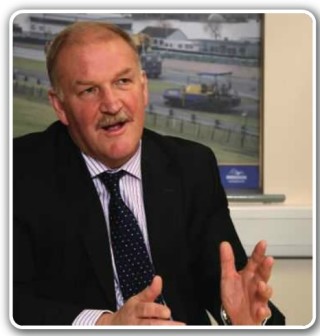 Callers to Breedon may be surprised to find that there are no large HR or procurement departments. Neither is there a corporate strategy division. Decisions are made by the small senior management team. And they are made quickly. "We're a fairly small business, we talk to each other every day. There's good communication between the centre and what's going on in the field," Vivian says.
"When you look at things like purchasing cement and bitumen, Peter and I get involved with that, as do the chief executives of the English and Scottish businesses. When we want to drive out the best deal, we get involved ourselves."
He adds that when they took over, Breedon's Scottish quarries were considerably more productive than the English ones. Alan McKenzie, who had been running the Scottish division during the Ennstone days, continues in the same role. Tim Hall, formerly a director at Tarmac, was brought in as chief executive of Breedon's English division.
"Peter and I had known Tim for many years, and were very fortunate that he could join us within a couple of months [of the takeover]. Once he came on board, we made substantial management changes and brought a lot of new people into the business."


Thanks to careful adjustment of screens and crusher settings, Breedon's English quarries are now as productive as those north of the border. Operators focus on maximising the production of the highest value aggregates and minimising wasteful by-products. This is particularly satisfying for Vivian. Before the takeover deal was struck in 2010, Barclays Bank had been preparing to hive off a couple of the worst performing English quarries in a separate deal.
"We asked the bank not to sell them [to anyone else]. We saw the potential and thought we could develop them, and that proved to be the case. They are now doing very well for us."
Breedon may be small fry compared to the four global aggregates players, Hanson, Lafarge-Tarmac, Cemex and Aggregate Industries, but as the UK's largest independent quarrying business it has been growing steadily for the past three years. Last year it bought five quarries from Marshalls in England as well as Aggregate Industries' operations in northern Scotland.
"We funded that through a share placement totalling £61m," Vivian says. "Those businesses performed very well last year." The Scottish acquisition has yet to be integrated into the business: Breedon must sell an asphalt plant and a concrete plant, following a lengthy investigation by the Office of Fair Trading. The company is now working with the Competition & Markets Authority to finalise the details.
Vivian admits to frustration with the process. "I understand the need for a regulatory authority to get involved. It's all very well if you're regulating the banking sector or the energy sector. You're dealing with very large companies and significant chunks of the economy. But our deal was only £30m. I don't think a deal of that size should have to go through the same process.
"We could have got to [the decision] a long time ago. It has taken a long time and an awful lot of analysis to end up where we thought we would be in the first place." He adds that although the assets are not yet on the market, several parties have already expressed an interest in buying.
Breedon still has a much smaller market share than the four major aggregates players, and is continuing to look at "a pipeline" of opportunities elsewhere in the UK. This is likely to be a combination of organic growth and bolt-on acquisitions. "We could spend up to £30m annually quite comfortably for the next few years," he says, "They could be single quarries, three or four quarries or asphalt or concrete plants. On top of that we're looking at some greenfield opportunities, where we could put up own our plants."
Breedon's business model, like many in the sector, is vertical. It will only invest in plants to which it can supply the raw materials. Through its AI acquisition, it now owns a concrete block business, Fyfestone, based in Aberdeen. "This is a new business [area] for us, and it's going well. Concrete products are natural stablemates to other products such as asphalt and ready-mixed concrete."
It has a small contracting arm that will not only supply, but also lay asphalt for customers. "A typical example would be a supermarket car park," Vivian says.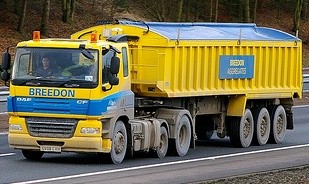 In the aggregates sector, acquisition talk is now dominated by the news that giants Lafarge and Holcim are to merge, creating the world's biggest aggregate business worth £26bn. If the deal goes ahead, it is estimated that competition authorities will force the organisation to offload roughly £4bn of assets around the world.
"It's early days, but obviously there's potentially an opportunity for us here," says Vivian. "It would seem that they'll have to sell a significant chunk of either Lafarge Tarmac's operations or Holcim's. We will be watching the situation carefully over the next few weeks."
Despite its growth ambitions, Breedon has a determinedly different business model to its larger rivals: more than 80% of its business is with smaller customers.
"Part of the process we have gone through over the last two to three years has been to refocus the commercial effort and explain to people the kind of business we want to build. We've been working hard to redevelop relationships," Vivian says.
"We think quite carefully before taking on large jobs. The prices are not usually that attractive, and large contracts come and go: if you focus too much on one contract you might actually disengage from the market. You haven't looked after the smaller customers who are there year in year out."
He concedes that working with smaller customers such as farmers and domestic builders is more challenging, but a better route to winning repeat business.
"We really try to look after customers. If they need materials at the weekend, or at night, we try our best to meet their requirements." This has served Breedon well during the recession. Margins are higher and repeat business is coming through.
"2011 and 2012 were difficult years when construction output and volumes fell in the industry. The improvement that we saw was the result of the different commercial approach that we introduced. That's what got us through difficult times."
Now that the economy is starting to recover, Breedon is well placed to look to the future. "It has been a fantastic three years. It's been hard work but we've got a great team of people and a fantastic workforce that wants to do well.
All they needed was a bit of leadership. "The advantage that Breedon has is that we're a fairly small family," Vivian says. "There is a real feeling of collective responsibility about everything that we do. And we can take decisions very quickly." 
A fuller version of this article first appeared in the May 2014 issue of The Construction Index magazine, which can be viewed in full at: http://epublishing.theconstructionindex.co.uk/magazine/may2014
While the magazine is free to view online, a subscription is required to receive you own hard copy every month. This can be purchased for just £35 a year at http://www.theconstructionindex.co.uk/magazine
Got a story? Email news@theconstructionindex.co.uk